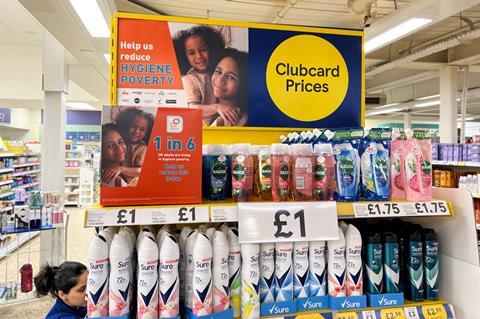 Unilever has enlisted the help of Kimberly-Clark, Essity and Haleon to supercharge its donations campaign across hygiene products in Tesco.
Over a six-week period (23 August to 3 October), Unilever, Kimberly-Clark, Essity and Haleon will donate one hygiene product to consumer goods charity In Kind Direct for every two selected products bought in one of 700 participating Tesco stores – or online from the retailer.
In Kind Direct will then distribute the donated products – spanning shampoo, toilet paper, toothpaste and period products – to its network of over 6,000 charitable organisations nationwide.
The campaign aims to distribute over one million personal care items from household brands including Radox, Sure, Persil, Andrex, Bodyform and Aquafresh to those in need.
It builds on Unilever's existing donation partnership with Tesco and In Kind Direct. However, the inclusion of three new suppliers meant there would be "an increase in the breadth of products" that could be donated, said Unilever.
In-store activations – including regionally bespoke store radio and branded gondola ends – and digital advertising would "amploify awareness of the campaign", said Unilever.
"Making tough choices every day between food, life essentials, rent is the reality for far too many people in the UK today," said In Kind Direct CEO Rosanne Gray.
"It is going to take the whole sector to come together to support change so that everyone has access to life's essentials."
Unilever UK&I GM for personal care Chris Barron said: "Working together with our peers means we will be able to reach the next one million donations milestone faster and ensure a much wider variation of essential hygiene products reaches In Kind Direct and their network of charities."