Stay away: the message from doctors to those of us with the sniffles couldn't be clearer. That antibiotics are useless against the common cold and visiting your GP simply spreads germs is also the subject of a Proprietary Association of Great Britain campaign.

If sales of winter remedies over the past year are anything to go by, the trade body can claim victory in spreading its message. Sales have surged 12.2% to £301.6m; volumes are up 6.6% [Kantar Worldpanel 52 w/e 19 July 2015]. Why? Surely it's not all down to efforts to encourage cold & flu sufferers to self medicate and keep out of GP surgeries?

This time last year, the market was looking decidedly under the weather: value sales had slumped 6.1% on volumes down 5.9% [52 w/e 20 July 2014]. But the arrival of bad weather in the early months of 2015 sent Brits scurrying down the healthcare aisles of the supermarkets and pharmacies for remedies.

"Weather undoubtedly has a huge impact on incidence rates of colds and flu and thus sales of winter remedies," says Nikki Banwell, brand manager for the Lanes Health brand Olbas. "However it's not the only reason for improved sales: NPD has secured incremental sales across the winter remedies category."

NPD such as Olbas Max Strength All-in-One, launched last month as the brand's first foray into the capsule format. Olbas isn't alone in developing new products to save Brits from the sniffles. Last September, Lemsip extended its cough range with sugar-free Mucus and Chesty Cough liquids and a Mucus Cough & Cold powder for oral solution. The same month, Covonia unveiled a sugar-free chesty cough liquid aimed at diabetics.

Complementing the PAGB's Treat Yourself Better Without Antibiotics campaign is Reckitt Benckiser's No Appointment Necessary campaign, which the Lemsip, Nurofen and Strepsils brand owner will repeat this year, in support of its growing range. "The trend towards self-treating is growing and cannot be underestimated," says category marketing manager Craig Shaw.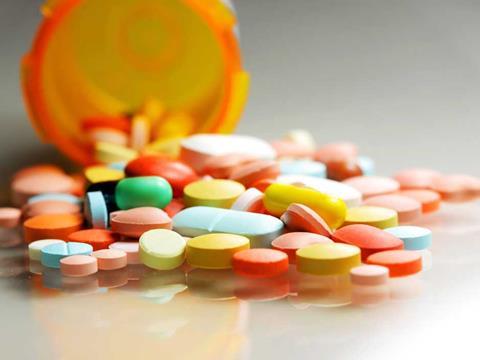 With a colder winter season, incidence increased and the category attracted 1.3 million more shoppers. Most growth has come through shoppers who did not buy last year, with switching between subcategories minimal.
Cold treatments saw the largest increase in shopper numbers, with over 40% of the new shoppers, and was boosted particularly by branded products.
Price per pack has also been a large source of growth, particularly in cough liquids, with shoppers choosing to buy larger, cost-effective packs.
Boots has seen the largest share gains with strong growth through shoppers returning to the fixture more frequently. Bargain stores too are seeing strong shopper gains.
The category will need another high incidence year to see further growth. It will be interesting to see how this year's NPD hit Bronchostop influences the market in terms of natural/traditional medicines.
Gareth Gwynne, Kantar Worldpanel
Innovation
Innovation, particularly the development of products that can treat a number of symptoms simultaneously, has been a key factor in the 5.3% rise in average prices in winter remedies in the past year. "The 'cold treatment' subcategory allows consumers to buy one rather than a number of products to relieve multiple symptoms at once," says Banwell.

Shoppers will think longer and harder than usual when shopping the category, adds Shaw. "On average, consumers suffer with 2.2 symptoms every cold, so multi-symptom relief is important," he says, citing TNS research that shows shoppers spend longer browsing the fixture than any other - 56 seconds versus 43 for eyecare and 34 seconds for analgesics - and pick up an average of 2.3 cough or cold products before selecting. "This is more interaction than any other category."

There are other factors driving up prices. Kantar notes that a switch to larger packs has helped drive average price per pack up, illustrating a tendency among shoppers to stock up on remedies at the start of the cold & flu season (40% of shoppers who bought cold treatments in the past year had not done so in the previous year, according to Kantar's research, resulting in 1.3 million more shoppers than in the previous year).

Another factor is when you buy. Some claim shoppers are more likely to buy (higher priced) brands while suffering from a cold in the hope it will be more effective.

Growth in remedies with natural or traditional credentials has also helped bump prices up. One of the biggest launches of the past year was Bronchostop, purchased by 1.2 million shoppers, far more than any other NPD, according to Kantar.

Owner Omega Pharma says Bronchostop was designed to fill a gap in the market for a one-stop shop for coughs. "The category has been flat for over 15 years, despite NPD launches of the leading brands," says Bronchostop marketing manager Stuart White. "Leading brands have made consumers believe there are over five different types of cough (chesty, dry, tickly, mucus, catarrh), research showed a third of people do not know what type of cough they have and coughs can change from one type to another. Many people indicated they are so confused by the cough shelves in stores they walk away or go the pharmacist. Bronchostop was designed to relieve any type of cough."

Advertising

The sector's biggest brands have spent big on advertising to drive growth. Spend on traditional ad space has more than doubled in the past year [Ebiquity 52 w/e 30 June 2015], with Lemsip remaining the sector's biggest spender with an outlay of £3.7m. Bronchostop spent £1.9m in support of its launch but Beechams has seen the biggest increase in ad spend, forking out £3.1m after barely advertising at all in the previous year.

"When it comes to health, consumers are not willing to compromise so we continue to develop products that ensure they are getting what they need and expect from a leading cold and flu brand," said Shivani Uppal, cold & flu senior brand manager for GSK, last November when announcing a £2.5m campaign for the brand. "By supporting our brands during the key season, we aim to reinvigorate the category by educating shoppers on the benefits of the portfolio."

Not that this - or the relaunch of the Beechams range and rebranding of its bestselling product, Beechams Ultra, as Beechams Max Strength - seems to have done Beechams much good. It's the only top 10 brand to have seen sales fall in the past year [IRI 52 w/e 8 August 2015], with value falling 6.6% to £28.6m on volumes down 7.7%, suffering partly from rival NPD.

The power of advertising in convincing shoppers that brands are worth paying more for than own label (even if they contain exactly the same active ingredients) shouldn't be underestimated. "We spend quite a bit above the line and prefer to tell customers about the product rather than price promotion," says Martin Stimson, area business manager for Fisherman's Friend, which is currently rolling the honey & lemon flavour it launched in pharmacies a year ago to the multiples.
Can fortified food & drink help ward off the sniffles?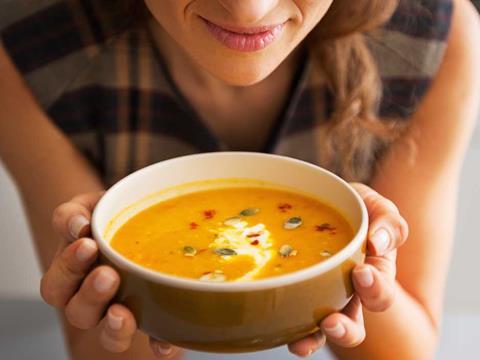 Brits don't just pop pills when the sniffles strike. These days we're trying to avoid them altogether by consuming food & drink that's fortified with immune system-boosting vitamins and minerals.
Actimel and Tropicana now talk up boosting kids' immune systems with products fortified with vitamins and minerals, while Innocent reports strong sales of its Super Smoothies range, which includes a Defence product fortified with vitamins C and D, zinc and echinacea.

The Tropicana Essentials range includes Immune Support and Fruitamins variants in a bid to make it "even easier to get a boost of nutrients such as vitamins C and A, magnesium, zinc and calcium into your diet" says brand owner PepsiCo.

In 2014 Danone launched Actimel for Kids, a yoghurt drink that includes calcium, vitamins and l.casei live cultures. And, moving into classic winter remedies territory, it has since launched a honey & lemon flavoured drink.

Food supplement provider Higher Nature has extended its range of products for children to include Soothe & Immune, an apple-flavoured drink with manuka honey, elderberry extract, vitamin c and beta-glucans (sugars found in bacteria, fungi, yeasts, algae, lichens and plants that are said to boost the immune system).

Now the Manflu brand is getting in on the act with a novel take on chicken soup - also known as "Jewish penicillin" - called Soup A Hero. The starting point for Soup a Hero, "a first-of-a-kind wellness soup", says Manflu founder and owner Jonathan Evans was the question: "How can we help in giving our customers comfort and sympathy without selling a traditional medicine?" Manflu has "reinvented it for the modern man", adding 13 vitamins and minerals as well as spicy ingredients - the latter because "consumers told us 'a kick' of heat helped deliver that soothing feeling" - in a packet soup format that is not dissimilar to Lemsip etc.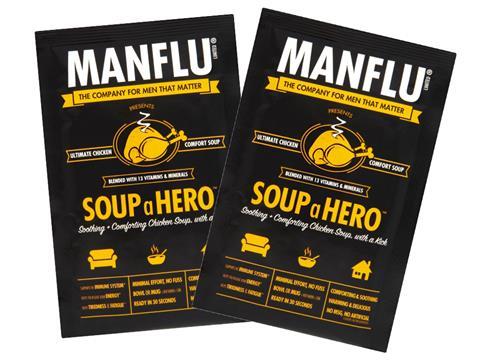 Promotions
Manflu founder Jonathan Evans also highlights the risk of focusing too much on promotions. "Big brands are throwing money at protecting shelf space and promotional in-store support," he says. "Often above-the-line is cut accordingly and this short-term approach is risky as the main players simply trade against each other chasing volume."

Of course targeted promotions during the cold season have their place - particularly in high-street chemists, which have seen the strongest growth of any of the retailers in the past year, according to Kantar (see p50). For example, value sales of winter remedies at Superdrug are up 18.3%. "This is down to a positive embracing and execution of NPD," says a spokesman, "and clear in-store communication and promotional mechanics."

The omens are good for the coming season too. "The early September [cold spell] signals a much more positive early season start compared with last year - always good news, providing category managers are ready for it," says Tim Morris, MD at weather-driven demand analysts Planalytics Europe.

There's a possible fly in the ointment, however, as consumers look to boost their immune systems with healthier diets or vitamin and mineral supplements.

Schwabe Nature's Way believes there is room for significant growth in vitamins and mineral supplements. It launched Alive! tablets in January, offering combinations of vitamins & minerals and extracts from 26 different fruit & veg. "People told us they were bored with the overly scientific big pharma approach and wanted something more natural," says MD Paul Kerry. This month the company launches soft gel Energy and Immune support products.

So maybe this year it won't be a case of people being turned away from their GP surgery, but not needing to visit in the first place.

Covonia Hot Dose Cough & Cold Syrup

Launch date: September 2015 
Manufacturer: Covonia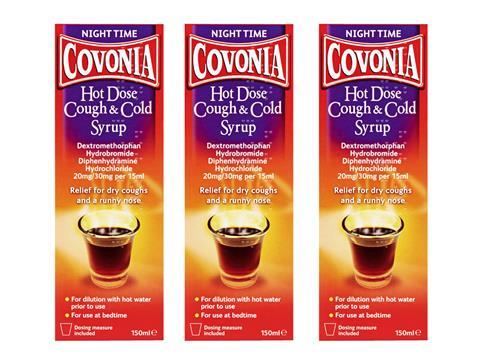 Some like it hot is this season's message from Covonia, whose research shows 58% of cold and cough sufferers prefer to take their medicine hot and 62% buy cough medicine hoping it will also help them get a better night's sleep. Taking these factors into account, the brand has launched Covonia Hot Dose Cough & Cold Syrup, with a 'hot shot' format - a 15ml dose of liquid to be diluted with an equal amount of hot water - to be taken at bedtime to relieve irritating symptoms and aid sleep.

Nurofen Sinus range

Launch date: October 2015

Manufacturer: RB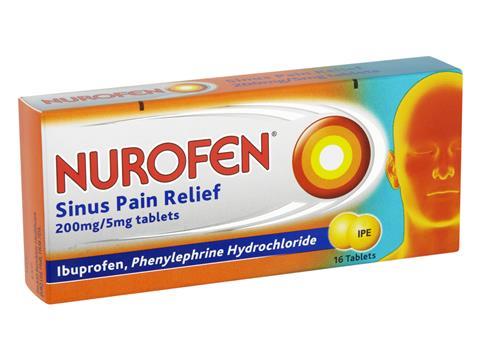 RB is expanding its Nurofen range with two products aimed at people who suffer with their sinuses. Both Nurofen Sinus & Blocked Nose and Nurofen Sinus Pain Relief (rsp for both: £5.49/16 tablets) offer a combination of 200mg ibuprofen for pain relief and anti-inflammation, and 5mg of phenylephrine as a decongestant.

Jakemans stick pack

Launch date: September 2015

Manufacturer: Lanes Health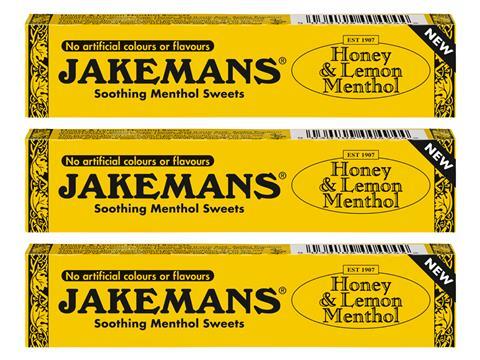 Several manufacturers have launched new pack formats to provide extra convenience to shoppers. Lanes Health has introduced a new stick-pack format for the two most popular varieties of its Jakemans range of menthol sweets - Throat & Chest and Honey & Lemon (rsp: 69p/pack of 10). The new-look packs are getting a £1.3m campaign.

Olbas Max Strength

Launch date: September 2015

Manufacturer: Lanes Health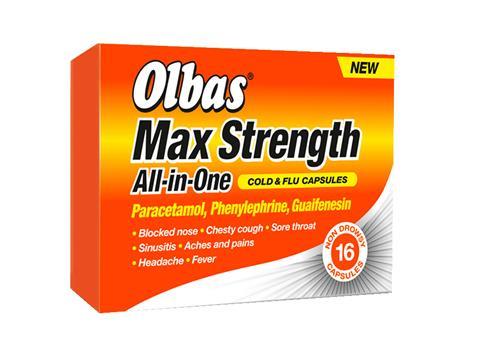 Olbas, best known for its menthol decongestant oils, is moving into the cold treatment subcategory with the launch of Olbas Max Strength (rsp: £4.79), an 'all in one' remedy for cold and flu relief. This is a significant departure for the brand and reflects the increasing importance of cold treatments within the category.