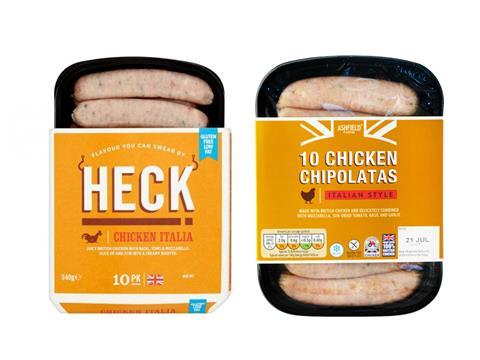 The owner of sausage brand Heck has slammed Aldi for "mimicking" its Chicken Italia sausages and threatened to take the discounter to court.

Andrew Keeble said it was "time to stand up to the playground bully" in response to Aldi's launch, earlier this year, of Italian-style chicken chipolatas under its Ashfield Farm brand.

Keeble accused Aldi of setting out to deliberately "dupe" shoppers into thinking they were buying Heck's Chicken Italia sausages and of "hijacking" the brand's values.

He told The Grocer he was investigating legal avenues to force the retailer to change its packaging.

Aldi's sausages were too similar to Heck's product in terms of colour and the colour combinations used, in addition to the general look of the product, he claimed.

There was also a similar font, the use of a chicken in the same position on the pack, and the general arrangement of the arch formed by the union flag on Aldi's product – which Keeble said was similar to Heck's arched 'flavour you can swear by' slogan.
"We recently wrote a very nice non-legal letter asking them to desist in hoodwinking the shopper, but in return we received a lengthy legal reply to try and scare us off." Keeble said.

"Enough is enough, we are a small family business that has invested time and substantial cash in developing the UK's number-one brand, enjoying 50% market share. Why should we stand by and watch these cowboys sell a looky-likey pack to their customers?" he asked. "It's not clever what they're doing. It's just copying."
This is not the first time Aldi has come under fire for allegedly copying branded products. The discounter was hit with a temporary injunction by Saucy Fish Co owner Icelandic Seachill in 2014 for its Saucy Salmon fish range, which was eventually settled out of court.

Keeble, who claimed more than 70 shoppers had complained about Aldi's chipolatas, accused the retailer of "conning" consumers.

"I'm not only doing this for my business, I'm doing it for the scores of shoppers who have written to us complaining about the fact they believed they were buying genuine Heck products only to find they had been duped," he said.
Controversy over 'copycat' brands has not been limited to the discounters. In May Hotel Chocolat accused Waitrose of ripping off the design of one of its most popular chocolate bars in a dispute that eventually saw the retailer back down and agree to stop manufacturing its own version.
When approached by The Grocer, an Aldi spokesman declined to address Heck's accusations. He said: "This product is sold under the Ashfield Farm brand which is exclusive to Aldi. We have used this brand in the UK for more than 15 years and it is one of our most popular and recognisable ranges."