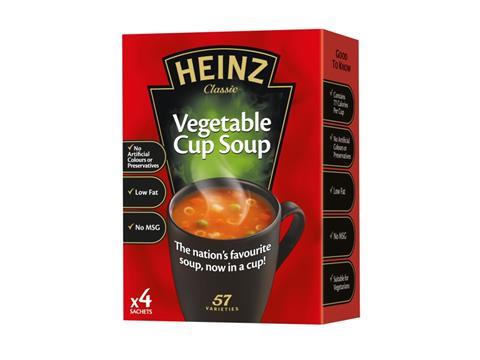 Heinz is returning to the dry soup market after a five-year absence as sales of its wet soups slump.

Rolling out next week, Heinz Cup Soup promises to offer "a rich, thick consistency" and will be available in three variants emulating flavours from the Classic canned range - Cream of Tomato, Cream of Chicken and Vegetable. They will be sold in packs of four sachets (rsp: £1.19).

The brand could grow the dry soup market, said Heinz brand manager Sarah Davies. "There are 8.6 million Heinz wet ambient soup consumers who don't buy into instant soup," she added.

The launch comes as sales of canned Heinz soups fell 13% year-on-year to £216m [IRI 52 w/e 24 May 2014]. Soup was a temperature-sensitive category, said Heinz, and had been impacted by the warmer-than-average winter of 2013-2014.

"The underlying category health is good and with more normal temperatures, will return to growth," added Heinz.

Meanwhile, the company this week revealed it will relaunch Squeeze & Stir - the small pouches of soup paste launched in 2011 as an alternative to dry soup.

Sales of the range have totalled just £3.5m in the past 12 months [Nielsen 52 w/e 24 May 2014], but Heinz said it was committed to supporting Squeeze & Stir and would next month unveil a new design and recipes. "This will make the product even easier to prepare and bring the proposition closer to the nation's favourite soup in a can," said a spokesman.

"Cup Soup is an extension to our instant soup portfolio," she added. "Some consumers do not like cup soup from powder and for these we have Squeeze & Stir."

Heinz said the £102m dry soup category [Kantar] had been given limited ad support over the past five years, and would back the Cup Soup launch with a £1m push including national TV and in-store activity.