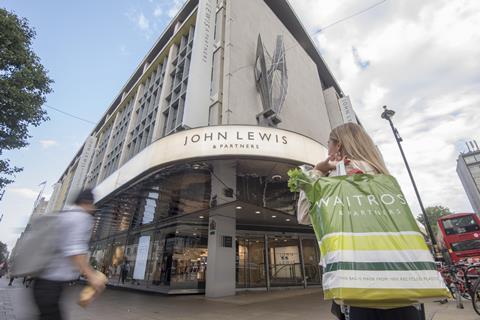 John Lewis Partnership is shuttering eight of its department chain stores, putting up to 1,300 jobs at risk as part of plans to turn around the ailing group, while Boots is axing 4,000 roles in response to the coronavirus crisis.
The John Lewis shops identified for closure include two of the smallest in the estate – travel hub shops at Heathrow and St Pancras – four At Home shops in Croydon, Newbury, Swindon and Tamworth and two full-size department stores in Birmingham and Watford.
About 1,300 staff across the eight shops will enter into a consultation process. JLP said if redundancies were confirmed, every effort would be made to find new roles where possible in the partnership, including the option to transfer to Waitrose branches or working for the online operation of John Lewis and Waitrose as more focus is placed on e-commerce.
Prior to the pandemic, the eight shops identified for closure were already "financially challenged", and the pandemic had accelerated the switch from shopping in-store to online, JLP added.
Online sales were now closer to 60%-70% of total sales for this year and next, compared with 40% prior to lockdown.
John Lewis and Waitrose would continue to invest heavily in e-commerce to reflect this shift, the business said.
The news at John Lewis comes on the same day Boots announced it was slashing 4,000 jobs – 7% of its workforce – as it shutters 48 optician practices and cuts head office and in-store positions in response to falling sales during lockdown.
Boots said it needed to take "decisive action" to mitigate the significant impact Covid-19 has had on the business.
The vast majority of Boots stores were kept open throughout lockdown as the business was deemed an essential retailer by the government. However, the company closed 100 large stores in city centres, train stations and airports – with 16,000 employees furloughed – to reduce costs at the peak of the crisis.
With the nation on lockdown, Boots experienced a dramatic decline in footfall and also closed its beauty and fragrance counters, leading to a 48% fall in retail sales at Boots UK and 72% at opticians.
Boots said despite the lifting of restrictions, the high street would take "considerable time to recover" during uncertain economic conditions.
Boots UK MD Sebastian James said: "The proposals announced today are decisive actions to accelerate our transformation plan, allow Boots to continue its vital role as part of the UK health system, and ensure profitable long-term growth.
"In doing this, we are building a stronger and more modern Boots for our customers, patients and colleagues. I am so very grateful to all our colleagues for their dedication during the last few challenging months. They have stepped forward to support their communities, our customers and the NHS during this time, and I am extremely proud to be serving alongside them. We recognise that today's proposals will be very difficult for the remarkable people who make up the heart of our business, and we will do everything in our power to provide the fullest support during this time."
At John Lewis, the announcement of the eight store closures comes as the retailer announced the final wave of reopening across the rest of its department store estate.
A further nine shops in Aberdeen, Ashford, Brent Cross, Chichester, Oxford, Peterborough, Reading, Sheffield and White City Westfield will reopen on 30 July. Leicester will also reopen when the local lockdown for the city is lifted.
It takes the total number of reopened John Lewis shops to 42.
Today's announcement forms part of chairman Sharon White's major strategic review of the partnership.
"Closing a shop is always incredibly difficult and today's announcement will come as very sad news to customers and partners," she said.
"However, we believe closures are necessary to help us secure the sustainability of the partnership – and continue to meet the needs of our customers however and wherever they want to shop. Redundancies are always an absolute last resort and we will do everything we can to keep as many partners as possible within our business.
"There are many reasons to be optimistic about the partnership's future. Waitrose and John Lewis are two of the UK's most loved and trusted brands and we have adapted to the challenges of the pandemic by responding to the new needs of customers. We will soon announce the output of our strategic review which will ensure our brands stay relevant for future generations of customers."
The partnership has made a commitment to provide support through a retraining fund, which will contribute up to £3,000 towards a recognised qualification or course for up to two years for any employee with two years' service or more.