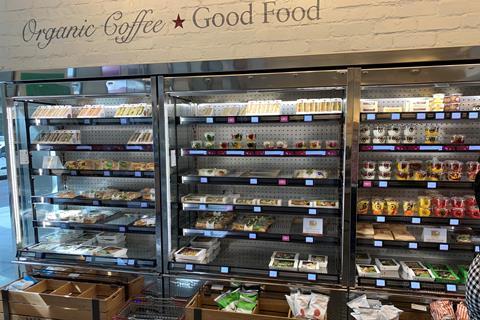 Pret will look to extend the service to more shops in August

The chain is currently testing different collection points in its stores, including a 'hatch' system
Pret a Manger has launched a click & collect service at five London outlets in a bid to get customers back to its stores.
The trial is being run exclusively by Deliveroo, with customers able to order and pay remotely through the app and collecting from a designated point in store ahead of any queue.
If the trial in the Aldgate, Hammersmith, Kingston, Putney and Stratford stores is successful, the fast food chain will look to extend the service to more shops in August.
Pret is currently testing different points in shops for pick up, including a 'hatch' system with customers not needing to enter the shop.
"As more of our customers change their daily routines, we've been looking at how Pret can meet their needs," said digital transformation director Alex Chisholm.
"Click & collect is a great way of offering a fast, contact-free service for our freshly made food and we look forward to making it available to more customers in the coming months."
As part of wider efforts to adapt to the new operating environment, Pret is also exploring new recipes for evening delivery for trial in a limited number of shops next month.
The chain has now reopened more than 300 shops across the UK, including all 10 of its Veggie Pret sites.
Pret recently hired a team of consultants to overhaul its business model in the face of serious disruption caused by the virus outbreak and subsequent lockdown. The fast food chain is under pressure from high rent coupled with dramatically lower footfall as its customers continue to work from home.