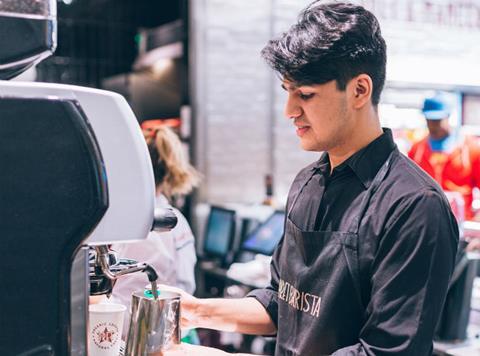 Pret a Manger is raising its reusable cup discount from 25p to 50p from the first week of 2018 to further slash disposable cup waste.

Customers will receive 50p off their hot drink if they bring in a reusable cup in which to serve it.

Its 25p reusable cup discount was first rolled out across its stores in August.

Pret is also planning to launch a reusable cup later next year. This comes in response to customer comments that Pret should sell a branded light, leak-proof and elegant reusable cup alongside the new discount.

The coffee chain will also explore adding china cups to more of its shops with seats.

CEO Clive Schlee made the announcement on Pret's blog this morning.

'Last week I tweeted that Pret was considering increasing its discount from 25p to 50p for any customer bringing a reusable cup. We are thinking of doing this to help change habits. It's well known that 'reduce' is better than 'recycle',' he said.

He added that the policy received considerable support online, with 96% of the 5,000 respondents on an Instagram Stories poll voting 'yes' to increasing the reusable cup discount to 50p.

Others suggested that Pret should charge for disposable cups, following the success of the 5p bag, but this idea was vetoed by the coffee chain.

'We debated whether charging people for using paper cups felt right. We decided that it goes against our instincts as we would prefer to be generous to our customers than to tax them,' Schlee added.