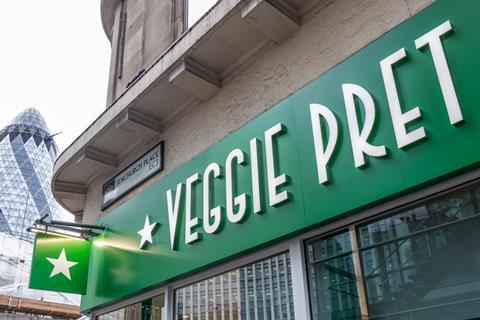 Pret a Manger is continuing to nudge the business back towards normal as it gets ready to reopen its Veggie Pret stores later this week.
All 10 Veggie Pret outlets in London and Manchester will reopen on 11 June, after being closed throughout the coronavirus pandemic. They will offer takeaway with new safety and social distancing measures in place and a reduced menu of vegan and vegetarian products.
Seven of the 10 shops, including the Manchester location, will offer deliveries for the first time as a result of a partnership with Deliveroo.
Pret recently hired a team of consultants to overhaul its business model in the face of serious disruption caused by the virus outbreak and subsequent lockdown. The fast food chain is under pressure from high rent coupled with dramatically lower footfall.
Last week, the business reopened a further 204 shops across the UK, with a limited menu available for takeaway and delivery, taking the total number of operational sites to more than 300.
This week, several more shops in railway stations, such as King's Cross, Manchester Piccadilly and Leeds, will open for takeaway, with more located in shopping centres scheduled to start back up next week as non-essential shops begin to trade again.
"We are excited to be reopening all 10 of our Veggie Pret shops this week," said UK MD Clare Clough.
"We know that many of our customers are working from home and missing their plant-based favourites, so partnering with Deliveroo means that more customers can access our extensive veggie and vegan menu."
Tom Peters, global director of health at Deliveroo, added the delivery app had recorded a 181% increase in the number of healthy orders on the platform over the past three years, with specific gains from a rise in demand for more plant-based options.
"The extensive Veggie Pret menu of veggie and vegan-friendly items really caters to this, and we're here to deliver it to customers' doors in London and Manchester."
Veggie Pret was started in 2016 as the business looked to capitalise on the growing vegan trend and as meat-eaters sought to reduce meat consumption.
Pret acquired rival sandwich chain Eat in 2019, with the ambition to convert as many of the 90 sites as possible into Veggie Pret locations. It opened three new Veggie Pret locations in early 2020 to take the estate to 10-strong.