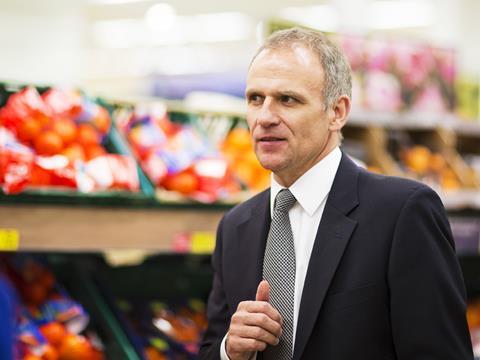 Tesco chief executive Dave Lewis has urged the government to increase the tax burden on online companies such as Amazon, claiming that existing fiscal policies are a "lethal cocktail" for traditional high street businesses.
In a speech to the CBI this afternoon Lewis called for talks "at the highest level" to rebalance the tax bill, which he said was unfairly hitting supermarkets and independent traders and encouraging companies to employ fewer staff.
Lewis warned that supermarket profitability had sunk from 5% to 2% in five years and said the pressure over costs such as the £8bn tab for business rates picked up by retail, on top of plans such as the national living wage, risked sending shops to the wall.
"More independent shops were closed than opened in the first six months of this year," said Lewis.
"As the first CEO in Tesco's history to be criticised for not opening a shop or for closing some existing stores I can tell you that this trend you are seeing is no longer down to us."
The Tesco boss, who stressed its huge contribution to the economy with 310,000 staff in the UK, fired a big shot across the bows of online retailers, one also aimed in the direction of Chancellor George Osborne who has promised a "fundamental review" of the rates system.
"Digital operations have no real community footprint,far fewer employees and a far lower tax contribution," Lewis said. "That should be a dilemma for the Exchequer. Without rebalancing to reflect digital business models, the physical side of retail pays a higher and higher proportion of the total tax bill.
"Furthermore it will incentivise a swifter shift to infrastructure-light, low-employment business with little interaction with communities."
As well as economic policy, Lewis also called for a new wave of cooperation between the government and retailers on health, claiming that on salt reduction alone Tesco's work under the Responsibility Deal had saved 1,500 lives.
He said large companies such as Tesco could deliver "direct action on agendas shared with government, delivering outcomes that government struggles to deliver. At scale."