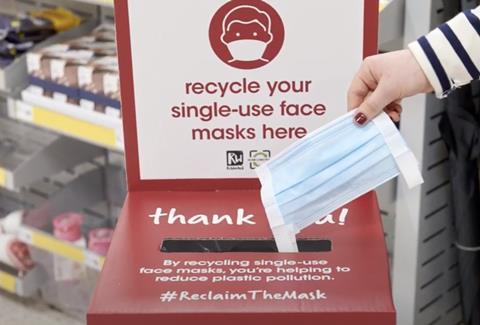 Wilko is launching a recycling scheme for disposable face masks, to help tackle the thousands that end up thrown in the rubbish or littering streets.
The home and garden retailer is to introduce recycling bins at 150 of its stores where shoppers can drop off their single-use masks, which are made from polypropylene fabric, a type of plastic. They will then be taken to recycling specialist ReWorked and turned into anything from building materials to public space furniture, according to Wilko.
The initiative is a claimed UK high street first and set to run for three months from 1 April.
"While the government has encouraged Brits to dispose of face masks via general waste bins, there has been an ever-increasing volume of PPE being discarded in public spaces," said a Wilko spokeswoman.
"Wilko and its partners for this scheme hope that providing an easy way to safely dispose of used PPE will help make it easier for hardworking Brits to reduce litter in the community."
Wilko CEO Jerome Saint Marc said: "We're thrilled to have developed this scheme, which makes it super simple for shoppers to safely recycle a product which is often unavoidably discarded as a result of us all taking steps to protect the health of everyone around us.
"It also means we're able to help hard-working families, local communities and other businesses by turning something we're simply throwing away into a useful and sustainable product that can have a genuinely positive impact."