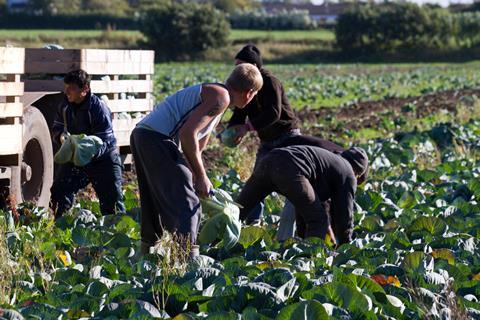 The Gangmasters & Labour Abuse Authority will issue temporary licences during the coronavirus outbreak in a bid to ensure the food sector has access to a wider pool of labour.
Businesses operating within the wider labour supply industry will be able to apply for food production licences lasting up to three months.
The GLAA hopes the move will help labour providers and their clients overcome the significant strain placed on them by the pandemic.
"It is important we recognise the need for greater flexibility in food processing and packaging, while at the same time maintaining our core commitment to protect vulnerable and exploited workers," said GLAA head of regulation Nicola Ray.
"We are determined to support those who follow our licensing standards and we will do all we can to help legitimate businesses as they continue to provide goods and services this country relies on."
Ray warned that the GLAA would operate a "zero-tolerance approach" to anyone found to be seeking to profit from exploitation of workers during this "challenging" period.
Any providers interested in applying will need to be sponsored by an existing GLAA licence holder. That licence holder will also have to carry out due diligence checks in line with the authority's licensing standards, with the final decision made by the GLAA.
Food industry figures welcomed the move. "Increasing the supply of labour into the sector will help ensure demand continues to be met in the coming weeks and months," said FDF policy manager for employment & access to labour Mark Harrison.
The news comes days after the Office for National Statistics compiled data from the police, UK National Referral Mechanism and Modern Slavery Helpline, which appeared to show a rise in the number of potential victims.
Cases reported to the police in England and Wales up to March 2019 rose 51% year on year to 5,144. Meanwhile, up to December 2018 the NRM and Modern Slavery Helpline saw 36% and 68% increases in incidences.
However, the ONS stressed greater awareness and improvements in police recording were likely to have contributed to these increases.