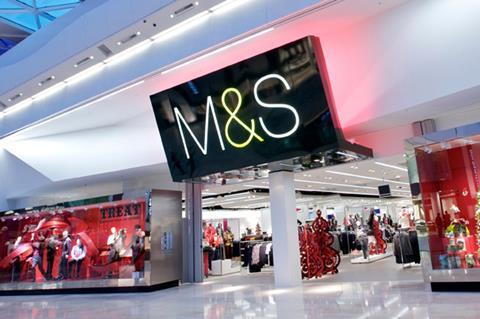 Marks & Spencer has announced it plans to cut around 7,000 roles over the next three months as a result of a "material shift in trade" due to the coronavirus outbreak.
The job losses will be focussed on its central support centre, regional management, and in its UK stores, reflecting "the fact that the change has been felt throughout the business".
It said "a significant proportion" of lost jobs will be through voluntary departures and early retirement.
M&S said that in-store clothing & home sales remain well below last year amid strong growth in online and home delivery.
"It is clear that there has been a material shift in trade and whilst it is too early to predict with precision where a new post Covid sales mix will settle, we must act now to reflect this change," the company stated.
It also said the coronavirus period showed staff can work more flexibly, with more transitioning between food and clothing & home and the deployment of its store technology package developed with Microsoft has enabled it to reduce layers of management and overheads.
Concurrently it expects to create a number of new jobs as we invest in online fulfilment and the new ambient food warehouse and reshape its store portfolio over the course of the year.
Read more:
CEO Steve Rowe commented: "In May we outlined our plans to learn from the crisis, accelerate our transformation and deliver a stronger, more agile business in a world in which some customer habits were changed forever.
"Three months on and our Never the Same Again programme is progressing; albeit the outlook is uncertain and we remain cautious. As part of our Never The Same Again programme to embed the positive changes in ways of working through the crisis, we are today announcing proposals to further streamline store operations and management structures.
"These proposals are an important step in becoming a leaner, faster business set up to serve changing customer needs and we are committed to supporting colleagues through this time."
Meanwhile, M&S group sales for the 19 weeks to 8 August were down 19.2%, albeit improving to a 10% drop in the final eight weeks of that period.
In the last 13 weeks total Food sales have increased 2.5% as M&S Food sales have built steadily from the shifts in demand and closure of travel locations at the outset of the crisis.
In that same period like for like sales excluding the impact of the closure of hospitality and travel franchise units were up 10.6%, with an improving trend as more locations recover and performance has regained momentum.
The transition to taking over the supply agreement with Ocado Retail is on track for September and M&S said it is beginning to see the benefits as planned in the form of trading terms and the launch of over 500 new products in M&S stores from the expanded online range created for the switchover.
However, clothing and home sales were down 49.5% in the 19 week period and by 38.5% in the last 13 weeks.
In the 8 weeks since store re-opening total sales have been down 29.9% with trends steadily improving. In those 8 weeks store sales were down 47.9% and online has continued to perform strongly up 39.2% on last year.
The performance of store sales has varied widely across the estate with some of the newer out of town stores trading close to last year's level of sales overall in recent weeks but legacy town centre stores and some shopping centres still heavily impacted by social distancing and reduced footfall.
Clothing and home online sales were up 42.2% in the 13 week period and M&S.com sales up 46.9%.
M&S said there has been a substantial change in delivery mix, with 68% of orders delivered to home, compared with 29% the previous year.
M&S shares have opened down 2.2% to 111.1p on the news.