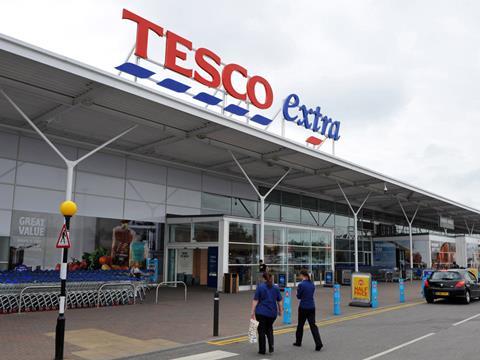 Tesco has confirmed it is in the final stages of planning for a major staff restructure, which reports suggest could see the loss of 15,000 jobs.

The UK's biggest retailer is thought to be planning an overhaul of its fresh food counters and bakeries across 732 larger stores as part of its commitment to slash £1.5bn costs across its operations.

According to reports, deli counters including butchers, fishmongers and cheese counters in many of its largest stores could face the axe.

The move will see fresh dough replaced with frozen dough in bakeries, allowing less skilled staff to carry out the roles, according to reports in the Mail on Sunday, which also said staff canteens would be closed and replaced with vending machines.

Today the retailer confirmed chief operations officer Tony Hoggett had written to staff over the weekend saying it planned to give full details of the cuts 'as soon as possible' and that the communication had been brought forward because of the leak.

'We are committed to tell our colleagues first of any changes we make as we continue to refresh and simplify the way we serve customers in our stores,' he wrote in the memo.

'These changes are still being finalised, but as a result of this leak and speculation, we will bring forward our communications to give more information as soon as possible.

'We recognise that any changes will be hard for impacted colleagues, and unsettling for everyone. Our priority is to support our colleagues throughout.'
Unite is seeking urgent talks with the retailer over the cuts.
"Our top priority this week is to arrange a meeting with Tesco's management to get a clear picture of what the supermarket is planning, following media reports at the weekend that up to 15,000 jobs could be at risk," said Unite national officer for retail distribution Adrian Jones.
"This is a very worrying time for our members who deliver to Tesco stores across the UK. While the reports centre on job losses in-store, such as at the bakeries and deli counters, we still need to know what this could mean for our members.
"What is required very quickly from Tesco is clarity on its intentions going forward."
Tesco has already cut more than 10,000 jobs since CEO Dave Lewis took over in 2014. The latest reports come almost exactly a year after Tesco announced it was scrapping more than 1,700 management jobs as part of plans to "simplify" its operations.

Under the changes, it stripped out the roles of people manager and compliance manager in more than 750 of its larger stores and fulfilment centres, as well as that of customer experience manager.

Last year Tesco also closed its Cardiff call centre. Other in-store cuts included the closure of general merchandise service desks.

The latest proposals come almost two years since The Grocer revealed Tesco was considering drastic reductions to its staffing levels, which could result in one in six store workers having their hours reduced or leaving the business.

Under a "modelling exercise" called Project Pace, it projected there could be 39,000 fewer Tesco colleagues working in its stores by 2019.

It is not the first time Tesco has considered doing away with scratch baking at its stores.

In 2014 plans were leaked to close up to 100 in-store bakeries, with Tesco at the time rolling out its Euphorium centralised bakery business. However, the operation was itself closed as part of Lewis' cuts in 2016, with Tesco at the time stressing the importance of its in-store bakery fresh cooking credentials.
Analysts today warned Tesco's proposed cuts presented a risk for its quality perception, which Lewis said had risen "significantly" only weeks ago when the retailer reported its best Christmas results for nearly a decade.

"That is a very large number of staff: with around 750 large stores, that would be about 20 staff per store," said Bruno Monteyne, senior analyst at Bernstein.

He said the cuts could lead to a saving of £250m if 15,000 full-time equivalent jobs were to go.

"The focus of the cost-cutting would be to reduce the store opening days and hours of the meat, fish and delicatessen counters, a change to baking using frozen dough in the in-store bakeries to reduce need for skilled bakers, and a layer of senior staff within the stores," he said.

"Whilst that is good news for UK profitability, the obvious question will be whether that will impact Tesco's quality perception and customer loyalty.

"Presumably Tesco will have strong evidence from trials about what such a move does to customer behaviour. It is somewhat reassuring that the retailer with the highest quality reputation, M&S, has no counters at all, but has amazing pre-packed deli products.

"Morrisons and Waitrose, on the other hand, use it as a quality differentiator."