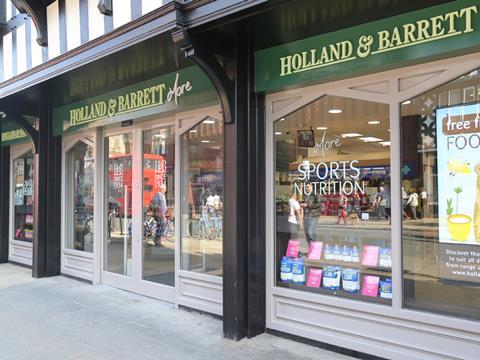 The mission to breathe new health and wellbeing into Tesco's biggest stores took another significant step forward today as the retailer revealed plans to go into partnership with high street health giant Holland & Barrett.
Tesco is introducing Holland & Barrett 'store within a store' concepts into six of its largest locations, the first of which, in Dudley, opened for business yesterday.
It is potentially a major play for both parties, but for Tesco in particular it is part of its key mission to find outside partners to share otherwise redundant space in its hulking Extra stores, which have been - and still are - at risk of becoming white elephants in light of the relentless march of the discounters and online shopping.
In the shape of Holland & Barrett, Tesco has a readymade respected brand, which will be a significant pull to shoppers. The new partnership will stand alongside its tie-up with Arcadia last year, which saw a string of Tesco stores roll out the welcome mat for branches of Dorothy Perkins, Burtons and Evans.
Tesco's UK CEO Matt Davies has spoken before of the "halo effect" from such deals, which he says have seen the largest Tesco stores begin to "morph into malls". Stores that already feature such tie-ups have seen significant like-for-like sales increases.
No doubt Tesco scouts will be busy searching for other suitors and, with the economic climate the way it is, there will surely be no shortage of retailers willing to go into business with Tesco rather than brave it out alone.
The move also puts into context Tesco's decision in March to shut down its health food business Nutricentre. All of the stores involved in the new H&B venture are those with readymade space left by the Nutricentre closure, although it's unclear if Tesco was already in negotiations with its new partner when it closed down the operations.
I said at the time I thought it was a shame to pull the plug on Nutricentre – a decision that saw 137 staff made redundant and the closure of 12 standalone Nutricentre stores and 11 concessions – even though it made strict business sense in keeping with Dave Lewis's back to basics strategy.
The health and wellbeing market is a huge potential opportunity for creating an extra reason for shoppers to make that visit to an out-of-town store, let alone the potentially massive benefits for consumer health.
Latest stats from Euromonitor show that, driven by the success of market leader Holland & Barrett, the health food shop sector has been growing its share of consumer health spend significantly.
In the long run, Tesco could have had some of this all to itself had it stuck with the Nutricentre concept. However, given the £8m Nutricentre was haemorrhaging in annual losses, it has to go down as a wise call by Tesco to let somebody else come in and share the spoils, with an offering that is far more established in the national psyche.
In fact, the past year has seen a total transformation of Tesco's strategy, with interests including the Giraffe restaurant chain, Harris+Hoole coffee shops and Dobbies garden centres all biting the dust.
No longer does Tesco have the resources to fight on all these fronts on its own steam.
Instead, the job for people like Davies is to find good bets that it can partner with and which will start bringing in the customers right from the off.
Meanwhile, for Holland & Barrett the deal is the latest in a number of major initiatives as it taps new markets both in hypermarkets and convenience. In April, The Grocer revealed Spar had introduced Holland & Barrett concepts into its stores as part of a trial run by its Northern Irish operator Henderson Retail. And only last week, it announced the rollout of click & collect to all its stores.
It's easy to feel sorry for the Nutricentre employees who must be wondering what might have been.
They had some exciting plans for growing the business, but with other retailers like Sainsbury's and Asda also going down the road of partnership to repurpose their stores, it's also an exciting time for shoppers.
Tesco and co may have been busy rationalising their food range over the past year but the non-food attractions on offer to make these stores worthwhile destinations look set to grow again with a whole host of new arrivals.
The big question now is, who will be next?