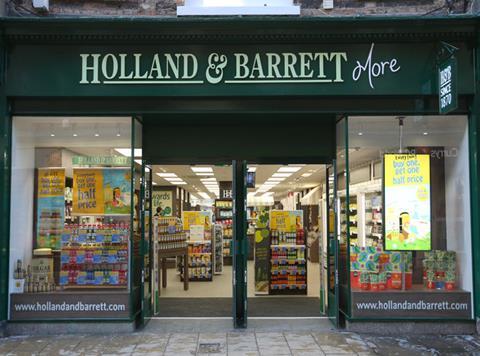 Holland & Barrett has issued a call to startups and suppliers to help extend its vegan product range.

The retailer is looking to add 500 more vegan product lines to its 800 stores in the UK and Ireland, in categories such as snacking, sports nutrition, on-the-go drinks and chilled and frozen.

This follows CEO Peter Aldis' confirmation in May that Holland & Barrett is considering opening a vegan-only branch for the "health-conscious consumer".

Aldis said Holland & Barrett does not have a timescale in mind regarding this store, but confirmed the retailer is "confident" of opening a vegan-only store format in the not too distant future.

Current vegan brands stocked in Holland & Barrett include Fry's, V-Bites and a vegan range from sports nutrition company My Protein.
Emma Cockerill, director of product development at Holland & Barrett, added: "We've long been committed to a plant-based lifestyle, even offering members of the Vegan Society a discount in store, and with the growing amount of vegans in the UK comes the need for an expanded range of great products for them to choose from."
"We know from our suppliers that vegan foods taste better than ever and are available in many more categories than just the chiller, which is why we are open to working with brands of all sizes, from full distribution, to listings in our bigger 'More' stores, and online only."
This comes as fellow retailer Waitrose added dedicated vegan sections in most of its stores earlier this week. It has also doubled its vegetarian and vegan range by adding more than 50 lines.

Chloe Graves, chilled vegetarian and vegan buyer for Waitrose, said: "Our current selection of products has been selling really well week after week, with requests for more choice coming from our customers and partners, so we could clearly see there was an appetite to have more vegetarian and vegan options in our shops. Increasing our range builds on the work we did last year to increase choice for our customers in this area."