This article is part of our Home Baking Digital Feature.
Things are changing in the home baking aisles. Making a carrot cake or Victoria sponge is considered so boring nowadays. Instead, consumers are looking for excitement and innovation in the form of flavours and textures from aisles once packed with hundreds & thousands and vanilla frosting.
The category needs it. Value sales may be up 2% but volumes are down 1.6% [Kantar 52 w/e 1 Feb 2015], with home baking showing signs of a plateau for the first time in years. The only sub-category with both value and volume growth is coverings which has gained 10% in value on volumes up an astounding 17.2% [IRI 52 w/e 31 Jan 2015]. So, what can the category's brands do to add value and keep consumers engaged?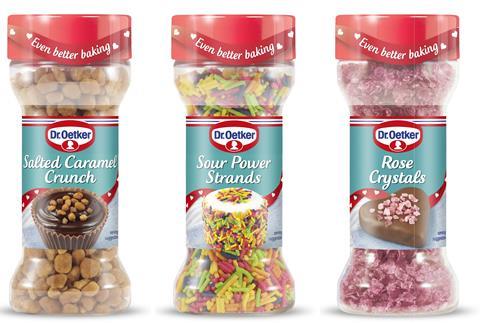 Innovation offers one solution, one that category leader Dr. Oetker says it has grasped firmly with a raft of launches planned for coming months.
"To counteract the slight fall in volume and add value to the sector, we don't believe that developing super-expensive, super-premium products is the right strategy," explains Gill Davies, executive head of marketing (ambient) for Dr Oetker UK. "At Dr. Oetker we are focusing our efforts on developing new and innovative products that will excite bakers and drive the performance of the category.
"This year is all about becoming more adventurous with tastes and textures. Consumers are really opening their palates to new quirky sensations as well as flavours that they wouldn't normally associate with baking, such as sour," she adds.
This is reflected in the brand's new wave of sprinkles: Sour Power Strands, Salted Caramel Crunch Sprinkles and Rose Crunch Crystals, which launch into Morrisons from May. Hoping to add life back into the decorations category, which suffered a 10.3% decline in value with volumes down 10.5% [IRI], the brand is also launching Mini Wafer Flowers and Wafer Petals in Asda this month.
Dr. Oetker is hoping the new launches can add some value to its sales. As the category's biggest player, besides own label, it lost 10.1% in value on volumes down 8.9% [IRI].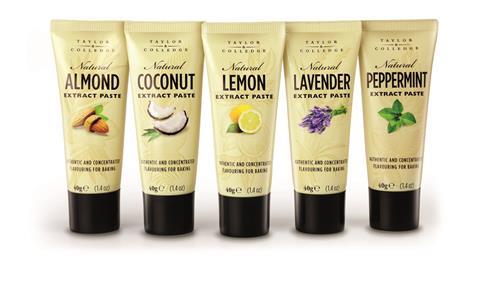 Another brand tapping into the UK's changing palate is Taylor & Colledge, having recently launched a range of premium flavoured pastes including almond, lemon, peppermint, coconut and lavender.
"While the overall flavourings and essences category has benefited from the growth in popularity of home baking, vanilla still accounts for the largest flavour," says Dr Sam Himstedt, the company's managing director. "The paste format has grown in popularity because it allows greater control when baking as it offers a convenient and mess free format which adds flavour without adding liquid."
Away from NPD, price inevitably has a part to play. "Prices are competitive and the number of promotions is up," says Davies. "Dr. Oetker is promoting more now than we were last year. In fact, 32% of our sales now have some sort of promotion attached to them compared to just 17% in 2014. Now more than ever, retailers are competing on prices so our value sales are deflated."
Top 10 home baking brands
| | £(m) | y-o-y% |
| --- | --- | --- |
| Dr. Oetker | 51.0 | -10.1 |
| Jus Rol | 40.5 | -0.1 |
| Whitworths | 27.6 | -12.1 |
| Betty Crocker | 25.6 | 0.4 |
| Tate & Lyle | 25.0 | 4.0 |
| Fruit Bowl | 20.4 | -3.0 |
| Hartleys | 19.4 | -0.6 |
| Mcdougalls | 16.6 | -6.6 |
| Whitworths Sugar | 15.2 | 218.4 |
Source: IRI (52 w/e 31 January 2015)
One brand not feeling the effect of this deflation is Whitworths Sugar. Its sales grew 218.4% from £4.8m to £15.2m [IRI]. The brand attributes the growth to new listings of products such as Royal Icing Sugar and Fondant Icing Sugar by Sainsbury's.
Tate & Lyle also saw success in the home baking category, adding a further £1m to its value. Both brands have bucked the declining trend of white baking sugars (caster and icing) which Louise Atack, commercial director at Whitworths, perhaps surprisingly, attributes to the discounters and not the war on sugar.
"This has been contributed to by value being taken out of the market as competition from the discounters, thus reducing overall retail prices," she says. "However, there is some evidence that shoppers are upping their game in terms of the activities for which they are using sugar, for example preserving sugar and ready to roll icings which are both in growth."
Meanwhile, Whitworths' dried fruit and nuts for home baking and snacking saw sales fall by 12.1% or £3.8m with volumes down 17.5% [IRI].
From dried fruit to dry mixes, Cookie Crumbles claims sales of its baking mixes for children have gone from strength to strength, with turnover doubling thanks to wider distribution. Currently available in Budgens, Hilliers, Whole Foods Market and soon in Holland and Barrett, the brand is hoping to build on that having recently appointed Blakemore Fine Foods as a distributor.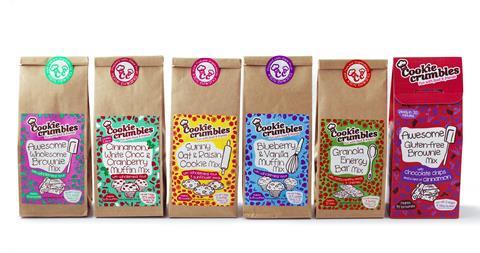 "Young bakers are growing rapidly in numbers and this is a real opportunity for brands to focus on," says Carola Weymouth, founder of Cookie Crumbles. "It is a very competitive market with the supermarket shelves being dominated by two or three brands. However consumers are increasingly looking for more sophisticated and high quality products, which is what we can offer."
Not content with just targeting young bakers, Cookie Crumbles is planning on branching into adult mixes as well. "As customers are becoming more aware of health trends we're looking at introducing more sophisticated adult mixes," Weymouth adds, noting a range of cake decorations are also in the pipeline.
Tiptree is also hoping a dash of sophistication will help it grow sales in the home baking category, with the launch of two spreads to its premium portfolio – Salted Caramel and Banoffee. "We believe that shoppers are becoming cannier with their money and are looking for premium food items as little treats," says Scott Goodfellow, sales director of Wilkin & Sons Ltd. "The home baking market is influenced by celebrity chefs, TV programmes and recommendations in quality publications. Our Lemon Curd sales have doubled over the last few years due to just such endorsements."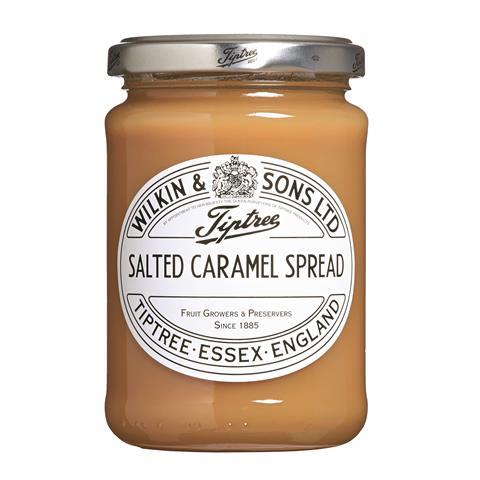 However, Tiptree, along with other spread brands, face a significant challenge in that they are located outside of the home baking aisles.
In value terms, spreads bedfellow Hartleys and pastry brand Jus Rol have coped reasonably well with the challenge with a 0.6% and 0.1% decline, respectively. Volumes, on the other hand, have not – Jus Rol fell 3.4% while Hartleys lost 14% in volume sales [IRI]. Jus Rol's design was overhauled in October 2014 in a bid to give it the edge over own label products, while brand character Jane was ditched.
Stork, which is targeting home bakers with the launch of a variant containing butter, believes this can be overcome by offering consumers inspiration. "The challenge for the category is to encourage consumers to interact with baking spreads and the chilled aisle. Butters and spreads chiller cabinets have a very short dwell time, so it's important that brands offer shoppers extra reasons to visit, such as POS and recipe inspiration," believes Rhiannon Carr, brand manager for Stork at Unilever UK. "It's important as a category that we harness the increased interest in baking at key times by inspiring shoppers to bake more and in turn grow the category."
In partnership with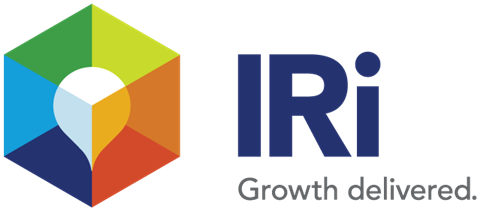 Data is provided by IRI, a leader in delivering powerful market, consumer and media exposure intelligence and predictive analytics to its clients in the FMCG, retail and over-the-counter health care industries. www.iriworldwide.co.uk.