How big is the Bake Off effect?
There really is something about Mary, it turns out. The Grocer can reveal that the queen of home baking Mary Berry's influence hit new highs as her final series of The Great British Bake Off aired last year. The number of households buying home baking products during the series jumped by more than 1.1 million (9.7%), the sharpest spike of recent years.
In total, 12.5 million households shopped the supermarkets' home baking aisles in the 12 weeks ending 6 November 2016, up from 11.4 million in the preceding 12-week period [Kantar Worldpanel]. A year earlier, the number of households shopping the sector as GBBO was on TV jumped 4.6% to 12.2 million. In 2014, the increase was much less pronounced: 3.4% to 12.1 million.
What's more, the number of Brits who say they bake at least once a week has rocketed in the past year, according to further research for us by pollster Harris Interactive. A year ago, we revealed that the proportion of Brits baking on a weekly basis had fallen by a quarter to 19%. Our poll of more than 2,000 consumers reveals that 34% of us are now dusting off our pinnies at least once a week.
"The Bake Off continues to inspire one in 10 females to bake and is especially popular with women aged 25 to 34," says Harris Interactive research sector head Lucia Juliano. "It seems that our love of baking is here to stay, with a third of people baking at least weekly. This increases to nearly half of 25 to 34-year-olds, with London being one of the baking hotspots."
Food for thought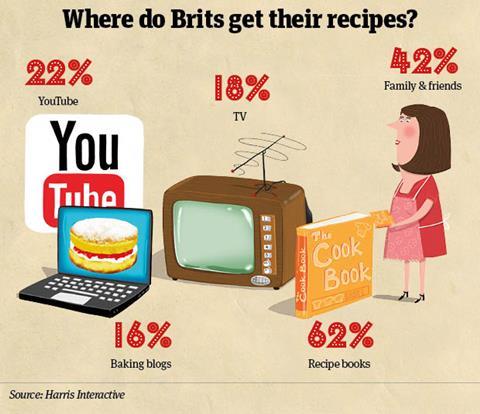 Of course, it's not all down to Mary. Fellow judge and celebrity chef Paul Hollywood and presenters Mel Giedroyc and Sue Perkins have also been credited with the series' success. The timing of last year's series, which began in late August and culminated just before Halloween, is also likely to have affected the number of Brits baking during the show. Home baking tends to spike in autumn and the build-up to Halloween and Christmas.
The timing of the news that the 2016 series would be the BBC's, Mary, Mel and Sue's final season is also likely to have influenced last year's Bake Off fever. Channel 4 confirmed it had secured rights to GBBO two weeks after series seven began. Nearly 14.8 million Brits watched the series finale, making it the most viewed final ever.
Hollywood is the only original presenter who'll be in the show's new format when it premieres on Channel 4 later this year. He will be joined by Prue Leith, Noel Fielding and Sandi Toksvig. Our research suggests the absence of the show's original lineup could have an impact: 39% of our sample watched last year; only 20% say they're planning to watch this year's; 52% say they won't.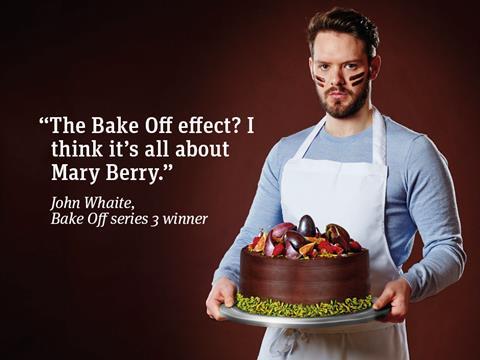 For GBBO series three winner John Whaite, Britain's home baking boom since the show first aired in 2010 isn't so much down to the 'Bake Off Effect,' rather the 'Mary Berry Effect'. "Mary's really soft approach and the way she gives honest but gentle criticism really emboldens people and encourages them to give it a go," he says.
"It's sad that she won't be in the new series but I think people will still give it the time of day. There's been so much what I'd call 'bullshit press' about how the nation's over it. People really seem to like the new presenters. One thing's for sure: it won't be the same. Let's wait and see. Of course it will be a different show but it could be a good one."
A slice of sales data
Now, the bad news. Sales of home baking ingredients are in decline, in spite of the spike in people shopping the category during last year's Bake Off. Value and volume sales have fallen by 3.8% in the past year [Kantar 52 w/e 26 March 2017]. What's more, the number of home baking occasions throughout the year (not just when GBBO is on) is in decline.
Home baking: take home sales
There are a number of factors behind this, says Kantar analyst Thomas Steel. "Markets are seeing strong price deflation and consumers purchasing both less per trip and not as often," he says. "Home baking across all retailers has seen brands being ousted by own label ranges, which has had a detrimental effect on category value."
Market leader Dr Oetker also points to a decline in deals. "Last year also saw a drop in in store support from retailers, with the number of units sold on promotion in cake decorations and ingredients down 7% year on year," says executive head of marketing Jan McKee, quoting IRI data. She adds that GBBO's move to Channel 4 is an exciting prospect for the brand.
"Channel 4 brings new opportunities for brands such as the possibility of advertising, sponsorship and calls to action within the show," says McKee. "This is an exciting prospect for the category and will help viewers resonate with brands and their relationship with home baking."
Dr Oetker isn't the only player that's spotted an opportunity here. "It will attract media attention and people will be keen to see the impact of the show for themselves and we know that no one will hold back on their commentary when it comes to social media," says Helen Touchais, brand director for home baking at Premier Foods, which produces the Paul Hollywood baking range.
"GBBO is still an influential show and viewing figures over the last few years have demonstrated its appeal among under 35-year-olds; we've also seen more men tuning in. The appetite for news though has not waned and whether people were avid watchers of the show or not, it was hard to miss this story in the news."
What are Brits baking?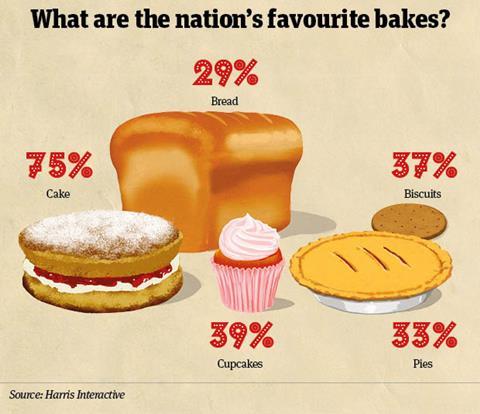 Our research (above), might suggest that the classics are still most popular with British home bakers, but that doesn't mean they're unwilling to try new things. As the creations on GBBO get increasingly ambitious and technical, so are the dishes being rustled up at home, says Whaite, who runs his own baking and cookery school in Lancashire.
"People are much more ambitious now," he says. "They might do a classic cake, say an upside-down cake, but they might use different fruits for it, say figs or Turkish Delight, that kind of thing. "They're really trying to jazz things up now. Because of shows like Bake Off and MasterChef home bakers are so much more skilled than then they used to be."
Dr Oetker is looking to inspire with new social platform We Bake, which gives bakers the opportunity to share ideas and recipes online. So far, the platform has attracted 37,000 registered users. The brand has also teamed up with Whaite for its Beat the Baker campaign, in which users are encouraged to share their best chocolate creations fopr a chance to win a trip to Belgium.
There are several key trends to watch, adds McKee. "Healthy alternatives continue to trend and the home baking industry in particular has seen a huge amount of creativity in adapting cakes and biscuits to meet demand. Sugar replacements such as agave syrup are on the rise and vegetables including avocado or beetroot are replacing fats," she says.
"Tying in closely to this, natural beauty is a clear theme for cake decorating as bakers go back to basics. The trend isn't just aesthetic; natural flavours such as fruits, nuts, seeds and even herbs such as thyme or rosemary are popular. On the other hand, 'maximalism' is a big trend for 2017, as home bakers go above and beyond to create over the top, beautifully decorated and rich-tasting cakes."
Dr Oetker's top five trends for 2017
1. Maximalism: It's go big or go home, as shown by this Neapolitans-tyle drip cake laden with toppings. Consider these cakes an over the top mash-up of indulgent cakes and freakshakes.
2. Health: A step in the other direction sees health-conscious bakers infusing their cakes with 'healthier' alternatives such as agave syrup, avocados and raw cacao.
3. Bright and bold: From Starbucks' Unicorn Frappuccino to these Yo Yo Cake Pops, brightly coloured treats are in.
4. Natural beauty: Some bakers are going au naturel, when it comes to their creations at least. The trend doesn't just apply to aesthetics, but also to flavours. Fruits, nuts, seeds and even herbs are popular right now.
5. Chocolate: Shoppers are looking for the best-quality cocoa to produce top-notch buttercreams, ganache and decorations, as shown by this chocolate lime meringue cake.
Inspiration from around the globe
Here's a look at how the trends are influencing home baking products across the globe.
1. South Africa: Pumpkin Fritters Kit Forget pineapple fritters, in South Africa it's all about pumpkin fritters. As such, Gourmet Cravings has created a home baking kit for those craving a healthier version of this deep-fried treat. The fritters are baked using the ready mix and seasoned with cinnamon.
2. USA: Lava Cake Ready to Pour Batter Put your mixing bowls away! All bakers have to do is pour this ready-made batter into a container, and pop it into the oven for a delicious salted caramel lava cake with a gooey centre. For the pièce de résistance, simply top with raspberries and a dusting of icing sugar.
3. France: Mascarpone for Tiramisu Making Tiramisu just got easier thanks to Casa Azzurra's pre-made topping. Combining mascarpone and masala, all dessert fans need to do is add lady finger biscuits and a sprinkling of chocolate for a quick and simple pudding.
4. Australia: Raw Cacao Cake Mix Well & Good's chocolate mousse cake with raw cacao mix taps into the growing free from trend with no dairy, gluten, nuts, wheat, soy and artificial colours and flavours. To prepare, bakers need three eggs, oils and butter or margarine.
5. Brazil: Coconut Mug Cake This coconut mug cake mix simply requires water, a quick stir and 50 seconds in the microwave to be transformed into an individually sized treat. The mix is also gluten and lactose free.
Creative challenge: Baking it easy
Brits' love of cake is undeniable, but here's the problem: home baking is messy and time-consuming, as our consumer research shows. Nearly 40% of respondents say the amount of time it takes stops them whipping up a Victoria sponge, while a third blame the mess for not strapping on their pinnies. So, what do time-short, house-proud Brits do when they want a homemade cake? They Bake It Easy of course!
That's the solution according to advertising agency The Gate, whom we've challenged to come up with a concept that removes these barriers.
"No amount of advertising in the world is going to convince consumers that baking isn't messy, so we looked for a product that was going to reduce that mess," explains Beri Cheetham, executive creative director at The Gate. "We've forgone baking clichés of homeliness and craft and opted for a minimalist style that reflects the simplification of the baking process."
Bake It Easy pairs a range of essential ingredients with an app for an augmented reality element, providing bakers with easy to follow step-by-step recipes. Each product in the Bake It Easy range is designed to reduce the mess and washing up at every stage – from the flour canister with a built-in sieve and upside-down measure, to the sugar packaging that dispenses its contents in easy-to-follow units and the butter that comes in 25g cubes.
What's more, The Gate has reimagined the units of time via a Spotify partnership, which makes the time dedicated to baking much more fun. For example, rather than an instruction to 'knead dough for four minutes', bakers can knead dough for the duration of Tinie Tempah's Text From Your Ex', which plays through the app.
Taking things one step further, the range is finished by the Bake Station; a wipe-clean laminated mat that not only keeps worktops pristine, but serves as a blueprint so beginners know where to put their equipment and in what order. "Much of the chaos and mess in a kitchen comes from a lack of good preparation and planning," adds Cheetham. "Simply follow the blueprint to know where to put your stuff. Importantly, there's a place in the corner for your handset that links immediately to the AR tech – thus allowing access to recipes, music and Facebook Live."
Rather than introducing an all-new premium brand to the busy home baking aisles, The Gate instead would look to team up with an existing brand, in this case Homepride. "Because the range is so tech driven and new, we don't want it to look like it hasn't got any heritage or credibility in the world of baking."
Whether Homepride will be branching into AR baking equipment and butter any time soon remains to be seen, but perhaps its time for it, and Brits, to Bake It Easy.
---
Thanks to…

Harris Interactive, a full-service digital consultative custom market research agency, polled more than 2,000 consumers for The Grocer for this article.

With its 30,000-strong consumer panel, Kantar Worldpanel, is a leading consumer and shopper insights provider. Kantar provided sales and usage data and analysis for this article.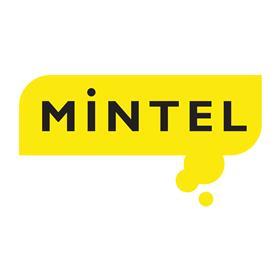 Mintel is a market intelligence agency. Mintel provided details of home baking NPD from across the world for this article.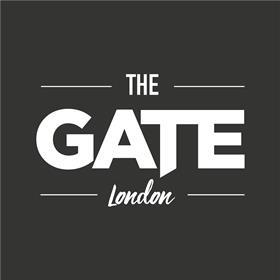 The Gate is an advertising agency with offices in London, Edinburgh, New York, Hong Kong and Shanghai. For this article, The Gate designed the Baking It Easy concept.