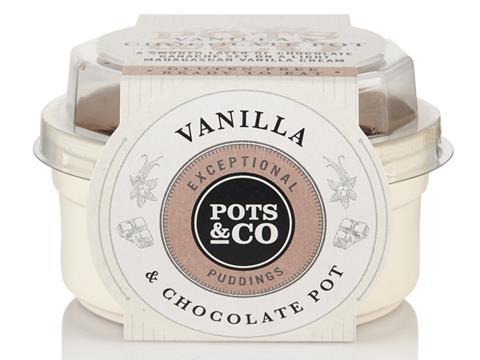 Pots & Co has knocked BrewDog off the top of The Grocer Fast 50 as soaring demand for its indulgent desserts, as well as lucrative airline deals, helped sales more than double last year.

The brewer has dominated the list of the fastest growing privately owned fmcg firms for the past three years, but maturing growth saw it slip to fifth on a two-year compound annual growth rate (CAGR) of 55.7% and annual sales of £72m in 2016.

Pots & Co, which sells its ceramic dessert pots in Waitrose, Tesco, Ocado, Whole Foods Market, Harrods, Booths and Selfridges, shot to the top of the Fast 50 with a two-year CAGR of 100.4%.
Booming exports in Europe - and more recently the US - contributed to revenues leaping from £150,000 in 2013 to almost £6m in 2016. Deals with the likes of British Airways and Delta will propel sales to more than £12m, said founder Julian Dyer. "It is all down to shoppers wanting a good quality product, nothing more complicated than that," he said. "Consumers today appreciate food that has not been messed around with and is natural."

The Fast 50 was more competitive than ever this year, with suppliers needing a CAGR of 36.2% to make it into the top 10, compared with 27.8% in 2016. The average growth rate rose from 22.4% last year to 30.4%.

In 2016, only 13 companies in the list had turnover below £15m, this year that number nearly tripled to 31.

Simon Peacock, director at Catalyst Corporate Finance, which compiles the list with The Grocer, said it had become increasingly dominated by smaller SMEs, with a record 33 new entries this year.

"Smaller players tend to be more fleet of foot when it comes to innovations," he added. "And the retailers are rolling the dice a bit more on smaller brands, with young shoppers today also taking health much more seriously. Consumers genuinely understand what makes a healthy product and this is perhaps the first time we have seen that come through in the Fast 50."

Peacock added: "In the past two years, if you wanted to launch a startup or challenger business in the food industry, it has probably been the best market you have seen for a long time, whether that is branded or just innovative clever products in private label."