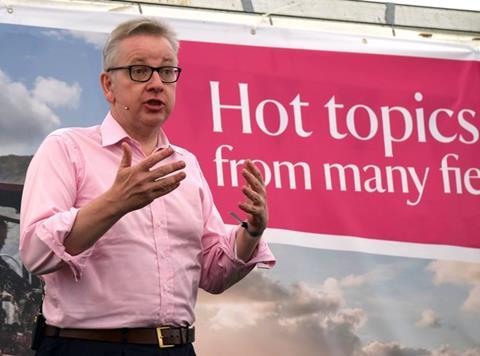 Food and farming leaders have cautiously welcomed the government's long-awaited Agriculture Bill, despite initial concerns it "ignored food production".

Environment secretary Michael Gove pledged to "take back control for farmers" as the bill was published on Wednesday, with a promise to deliver a 'green Brexit' through a new system of "public money for public goods".

Defra's initial anno­uncement ahead of the bill drew a furious backlash from farming unions over a perceived lack of focus on food production. Farmers' Union of Wales president Glyn Roberts warned the bill could have "potentially catastrophic consequences for food production", while NFU president Minette Batters said it "fell short" of expectations in addressing volatility, free trade and access to labour.

It is understood the backlash was so strong that Gove personally attended an NFU event to offer reassurances.

But having scrutinised the bill, the reaction was "more encouraging" said one industry source, who noted it conferred "punchy powers" on the government.

British Poultry Council CEO Richard Griffiths said the bill was a "good first step", while NFU Brexit director Nick von Westenholz said "the key issue is not what the bill does, but what the current and future government does with it".

Defra intends to phase out CAP payments during a seven-year transition, replacing them with an Environmental Land Management system, that rewards producers for environmental improvements. The bill also gives the government powers to intervene with financial support in "exceptional market conditions, and while not referring directly to the GCA, it notes the government could create regulations on "fair dealing with agricultural producers".