Food & drink businesses should embrace soil health
We have a looming crisis in the UK that is literally right under our feet. Our soils are in a critical condition. It is said we are just one generation away from having a soil system that is unable to meet the needs of the people that depend on it.

According to Professor Chris Collins of the Soil Security Programme at the University of Reading, 33% of our soils are degraded. In what other area of business would you allow 33% of your assets to be degraded? Defra estimates that 2.9 million tonnes of topsoil are lost each year in the UK alone.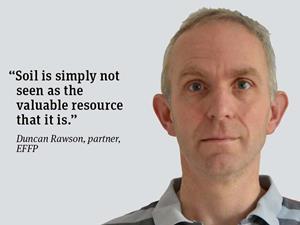 Soil is simply not seen as the valuable resource that it is. But without healthy soils we cannot produce food. Moreover, healthy soils play a vital role in mitigating many of the broader impacts of climate change. And the food industry needs to recognise the key role it can play to help reverse the UK soils crisis.

The food industry has a key role because it has a unique relationship and influence with both suppliers and consumers, which can drive change. It's a relationship that others - such as NGOs and governments - don't necessarily have. And it's in the industry's interests to do so.

Consumers are increasingly expecting more from the businesses that supply them with food and drink. This means there is an opportunity to enhance brand value, or at least to protect it. As the demands of society change, shareholders start to take an interest. And we have seen the negative impact of bad press on shareholder value across many sectors in recent months.

But there is a more in-your-face commercial reason. With such uncertainty ahead, particularly in a post-Brexit world, those food companies that take an interest in healthy soils will have a more secure supply chain in the long-run. Less volatility, less risk, and, yes, dare we say it, a more competitive price for their inputs.

Most food companies are already investing in their supply chains to enhance performance, but only a few are investing in and working with farmers.

Food companies who have taken an interest in the environment have tended to focus on the things you can see - above-ground biodiversity, water, chemical use, and so on. But some forward-thinking firms are now considering what goes on underground, in our soils.

With our help, Nestlé has launched a sustainability programme bringing together partners such as the Game & Wildlife Conservation Trust to deliver environmental benefits, and more recently an innovative soil improvement programme, with First Milk and its dairy farmers in the north west of the UK.

Other clients we work with in the cereals sector are focused on interventions with their farmers to develop and deliver best practice, not just to drive productivity, but also to protect the environment and soils for the long term.

At EFFP, we believe there is a considerable opportunity, if not an obligation, for the food industry to do more to use its resource and influence to really drive the changes required to reverse the soils crisis. So come on… it's time to make friends with the worms and embrace the soil.

Duncan Rawson is a partner at European Food & Farming Partnerships