Forget milk and sugar: tea drinkers are developing a taste for a drop of something stronger. Black tea porter, chai-infused ale and alcoholic ice tea are among the alcoholic teas to have hit the market in 2014 thanks to a growing on-trade trend for tea cocktails and beers.
"There's a huge gap in the market for mixing tea with beer or alcohol," says Sarah Chanter, managing director of Scottish tea brand Eteaket, which has launched three tea beers this year and is preparing to unveil a fourth. "Tea cocktails and beers are popular on-trade and the trend is starting to trickle into off-trade."
Eteaket's offering includes 5% ABV Lapsang porter and 4% ABV 'Chai PA' tea beers developed in conjunction with local breweries and currently available through independents.
"We're seeing a growing trend towards younger people drinking tea and innovating with tea beers, cocktails and tea lattes will get people using tea in different ways," says Chanter.
Alcoholic ice tea brand Harry Brompton's became the first to enter a UK supermarket after winning a listing for its 4% ABV tea in 56 Waitrose stores in February, and the company went on to win listings in Sainsbury's and Ocado in June.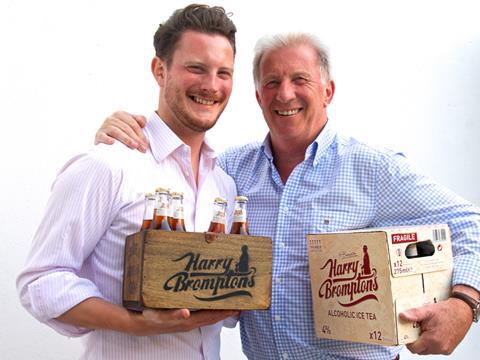 The lightly sparkling tea (rsp: £1.90/275ml) is handmade in small batches with a blend of black tea from Kenya's Great Rift Valley, grain spirit and citrus. Serving suggestions include tea cocktails such as 'Harry's Tea & Toast', combining marmalade vodka with Harry Brompton's and a twist of orange.
"There's a lot of potential growth for alcoholic tea on the horizon," says Ian O'Donohue, founder of Harry Brompton's London Ice Teas, who came up with the idea after living in the US where 85% of all tea consumed is iced.
"The reaction to Harry Brompton's has been really superb and we have been converting a lot of people that weren't ice tea fans and wowing those that were. We have something exciting launching later this year but we're keeping it under our hat for now."
Japanese restaurant chain Wagamama became the only UK restaurant to offer iKi beer – a 'fusion' of wheat beer and green tea – in November 2013, but only time will tell if the alcoholic tea trend will really take off in the off-trade.
In 2009 American ice tea brand Twisted Tea launched hard iced tea, a 5% ABV blend of tea and beer in Tesco, but UK distributor PLB Group says "sales did not reach the criteria required for continuing to import the product" and it cancelled the line a year later.
"The alcoholic tea market in America is enormous and a blue-collar category but when we got Twisted Tea into Tesco it didn't set the world on fire," says Martin Howe, national account manager for PLB Group. "The UK consumer wasn't ready. Shoppers are open to the idea of alcoholic tea but it's a niche market and isn't going to get the shelf space needed in the grocers."