This article is part of the 2016 Hot Beverages digital feature

No More Tea Bags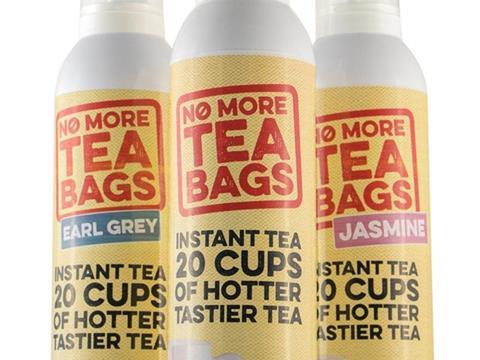 Of all the alternatives out there, this could be the boldest and most baffling to lovers of the humble tea bag. Created by drinks entrepreneur Guy Woodall, No More Tea Bags is a liquid tea concentrate in an aerosol can, which is said to produce a stronger brew. The concentrate is made from whole tea leaves and is available in Black Tea, Earl Grey and Jasmine variants. It certainly has its positives – it cuts out all the squeezing and straining required of the tea bag – but it might have a challenge tempting the traditionalists.
Tea sticks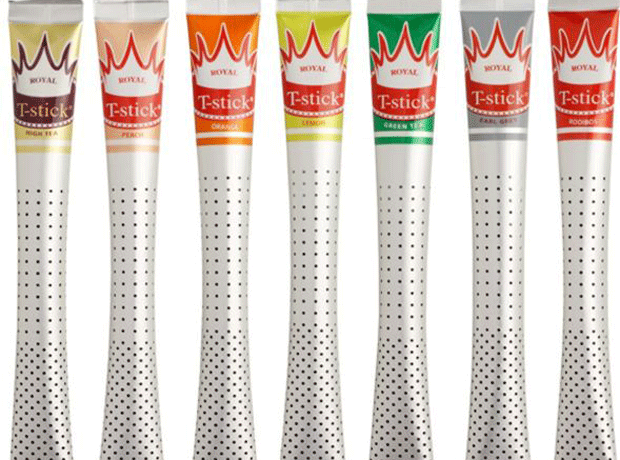 Without the right resources – a tea infuser, a strainer, even a clean spoon to hand – making a cup of loose leaf tea can be more fuss than it's worth. That's why the tea bag is still king. Royal T-stick is hoping to dethrone the bag with this neat little launch. When popped into a mug of boiling water, a tea stick acts as an infuser, stirrer and strainer all in one, and creates a convenient cuppa with minimal mess. Royal T-stick offers High Tea, Earl Grey, Green Tea, Rooibos and various fruit tea flavours.
Matcha tea powder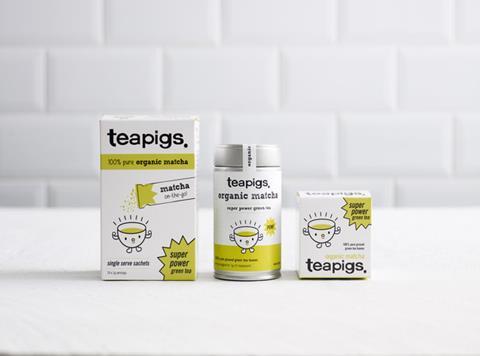 It's popping up all over Instagram foodie accounts, it's on the menu at high street coffee chains and it has even infiltrated the creations of some of this year's Bake Off contestants (much to Mary Berry's distaste). We of course mean matcha, the bright green tea powder that can be drunk hot or cold or sprinkled on your morning porridge. Teapigs offers a range of matcha products including on-the-go sachets, which could be an easy substitute for your afternoon brew at the office.
Tea pods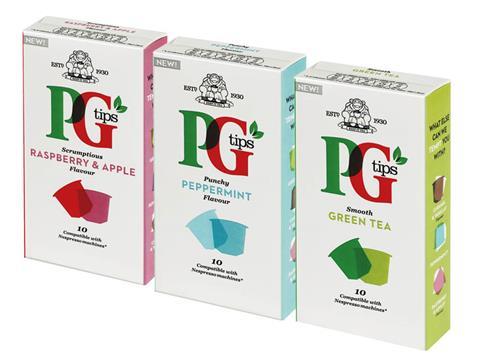 Coffee pods have enjoyed an ongoing boom over the past couple of years, with our Lidl buyer praising them as 'the biggest trend at the moment'. So it was only going to be a matter of time until tea pods made an appearance. Unilever, which launched the PG Tips pyramid tea bag 20 years ago, revealed Nespresso-compatible PG Tips tea pods last year, and Twinings Everyday linked with Tassimo. Let's see if they're still going strong in 20 years' time…
Instant tea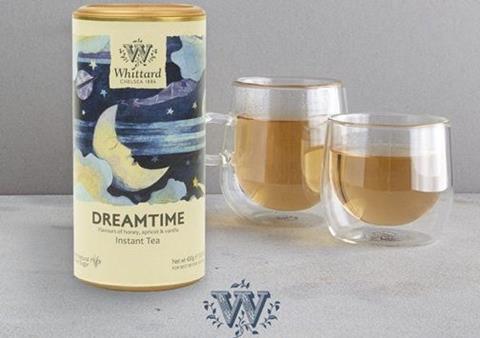 Alongside the classic pyramid tea bag, PG Tips has long offered freeze-dried instant tea granules. The format sure worked for coffee, so now tea brands such as Whittard of Chelsea are getting on board with the idea. Whittard's Instant Tea granules are added to water to create a hot or cold beverage. From fruity to festive, the teas come in many flavours, including Lychee & Mango and Mulled Wine.
Previous article: Stuck on the shelf or the mind? How brands can get 'stickier'