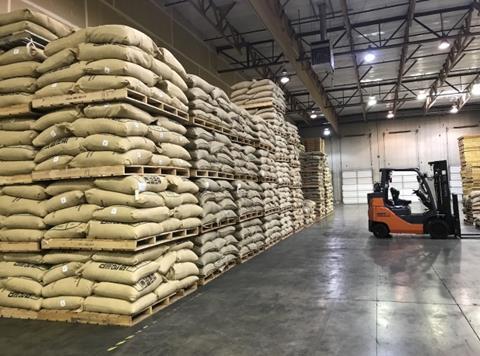 The British Coffee Association has set out its aim for its industry to become the first to achieve a circular economy in the UK.
In 'Bean to Bin and Beyond', a White Paper published today (24 September) to mark the start of UK Recycle Week, the BCA details the opportunities and barriers in creating a fully sustainable coffee sector.
It comes as the latest statistics from the BCA show Brits drink 95 million cups of coffee every day. "As consumer demand continues to increase, the sector is taking steps to ensure that circularity of material use and re-use is central to the development of coffee supply chain strategies," said the association.
The new White Paper includes seven goals for the industry – in line with the government's 25-year environmental plan to reduce waste and our environmental impact. They include the aim to switch to 100% recyclable or reusable packaging across all products within the next seven years.
The association also recommends responsible sourcing of all packaging materials – including plastic, paper, cardboard and aluminium – through greater supply chain transparency, traceability and investment in technologies that reduce waste to landfill. And it calls for support in encouraging the government to expand investment in recycling and waste management infrastructure, including investment in composting facilities and the improvement of the waste collection infrastructure.
Finally, 'Bean to Bin and Beyond' highlights a number of eco-initiatives underway across the UK and overseas, including the capture of waste coffee grounds for reuse, introduction of green transport, and support for farms in coffee-growing countries in reducing waste and improving efficiency.
Today's White Paper builds on the BCA's 'Sustainability Mission & Objectives' published a year ago, with the pledge by the association to put sustainability at the heart of its strategy, after it faced criticisms over waste produced by the coffee industry.
The new document recognises a number of challenges to be overcome in order to achieve a maintainable circular economy. Key among them are an insufficiency of close collaboration within the coffee industry and a lack of government commitment to expand the UK's recycling infrastructure.
Sustainability was "at the heart" of the BCA, said its executive director Chris Stemman. "As a collaborative body that brings together a multitude of coffee companies in the UK, we are perfectly placed to lead and champion an initiative such as this."
The UK coffee industry had made "some great progress" in recent years with regards to sustainability, he added. "We are committed to continuing to support this work and addressing the gaps that remain."
José Sette, executive director of the International Coffee Organization, hailed the BCA's focus on environmental matters. "The UK coffee industry has seen impressive growth across the sector and contributes around £10bn to the UK economy," he said, "so to see such important leadership in promoting and advancing sustainability through the circular economy is hugely important."