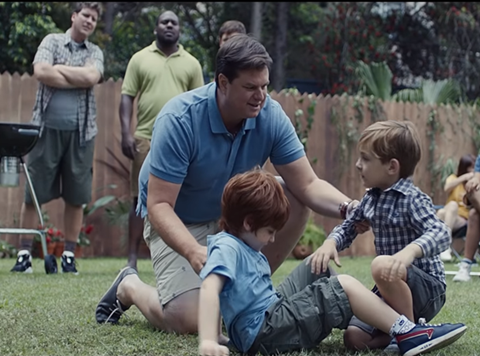 'If you're threatened by a razor commercial asking you to be a better man, you don't need a new shaver; you need new standards', tweeted CNN commentator Keith Boykin this week.
It was a spot-on view of reactions to the latest US push from Gillettte, which uses the evergreen 'Best a man can get' tagline to address the issue of toxic masculinity. Don't sexually harass women, it urges. Don't solve your problems with a punch-up.
These are lessons no man ought to need – but, sadly, some do. And a lot of them are very upset. Creepy right-wingers, misogynists, Russian Twitter bots and Piers Morgan have called for a boycott of Gillette for being 'anti-male'.
'Let boys be damn boys. Let men be damn men,' tweeted the perpetually outraged Morgan meaninglessly.
Ad experts don't like it either, accusing Gillette of making 'the year's worst marketing move' (in January). It's alienated the brand's core audience, apparently.
Er, no. In reality, a bold ad upset some unpleasant people with an admirable message that seizes the zeitgeist that is #MeToo (a movement born out of the toxic male behaviour Gillette highlights).
P&G's shaving brand isn't suggesting all men are violent sexual predators, says Sarah Sandford, planning partner at independent advertising agency Isobel. The advert is "about men joining the conversation in a #MeToo era. We'll only move forward if we have an open dialogue."
Brands that take on social issues frequently find themselves under fire, "so Gillette is being brave here" Sandford adds. "As a brand, it has represented traditional notions of masculinity for decades, but times are changing, so it needed to reappraise its offering."
Imen Chatti, senior account director at PB Creative, agrees: "If brands want to build lasting, meaningful connections with their target consumers, they need to accept that times are changing."
The ones that get it right, she adds, "are those that have started to communicate with their audiences differently, using an appropriate, straight-talking tone of voice, and celebrating individuality rather than stereotypes".
Gillette's sales continue to fall in the face of beards and DTC rivals – the brand lost £13.3m in grocery last year [Nielsen 52 w/e 8 September 2018] – so it makes sense for it to draw attention to itself. Like Pepsi found with its 'white saviour' Kendall Jenner ad, causing offence doesn't necessarily translate into commercial disaster. The same went for Kellogg's when Breitbart declared 'war' on the cereal giant for pulling its ads from the far-right website.
The worst that can be said is the Gillette ad is mawkish. And man, is it mawkish!
Elliot Wilson, strategy director of London's Cabinet agency, is agog at "just how bad the execution of it is. All brands virtue-signal – Nike's 'Kaepernick' is a great example – but the ones that grow and gain loyalty off the back of it are the ones who do it with the highest standards and with a lightness of touch that shows they 'get it'.
"This commercial is woeful on every level. The message is not the problem here but the heavy-handed execution."
Chris Blythe, director of The Brand Nursery, is less irked about the ad's quality, but he wants to know "how, or if, Gillette follows through on this, and how committed it really is to changing the way 'real' men behave".
Until then, he's "delighted to carry on buying Gillette products now I know Piers Morgan isn't".