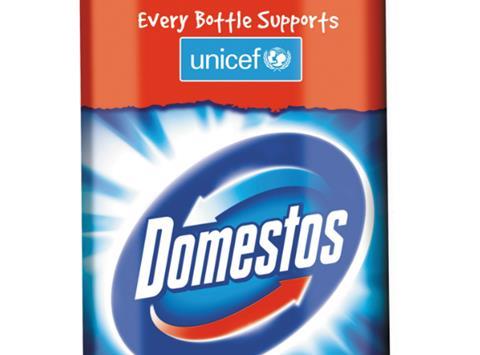 Domestos has joined forces with Unicef for the fifth year running, with the aim of bringing improved access to basic sanitation to millions of people across the world.

Until 31 October, the Unilever cleaning brand is giving shoppers the chance to contribute to Unicef's sanitation programme by donating 3p from the sale of every bottle of 750ml bleach - marked with a red flash to highlight the initiative.

The partnership - which has pledged to help 25 million people gain improved access to clean and safe toilet facilities by 2020 - will be supported by a digital campaign, including a 20-second video on YouTube, focusing on the impact poor sanitation has on children and their future.

Domestos is committed to the Unilever Sustainable Living Plan for reducing the supplier's environmental footprint and upping its positive social impact, said senior brand manager Trang Pham. "Hygiene is at the core of everything we do. Poor sanitation is dangerous and degrading wherever it occurs. By purchasing a pack of Domestos, consumers can really make a difference."

Kate Goldman, director of partnerships & philanthropy at Unicef UK, added that the organisation's partnership with Domestos would be "driving transformational change around the world".