Household products should be relatively immune to consumer spending cuts, but in austerity Britain, even cleanliness and hygiene are fair game. Although price increases have, on the whole, led to a rise in value sales of household goods, suppliers have been struggling to shift as many units as shoppers look to cut corners around the home.

This dynamic plays out most visibly in the toilet care and bleach sub-category, where value growth of 3.1%, driven by a 6% average price increase, mask a 2.4% fall in volume sales. Elsewhere, a shift from auto to cheaper hand dishwash products is further evidence of shoppers' desire to economise on cleaning regimes. Hand dishwash sales grew by 6.3%, due mainly to a strong play by own label - although Persil continues to shake up the sector following its renaissance in 2011.

The star product of last year's household category, meanwhile, was one of the poorest performers this year. Weak sales in the electrical and autospray segments were chiefly responsible for a fall in Air Wick sales, according to Nielsen.

Better news for the brand's owner, Reckitt Benckiser, came courtesy of a strong performance from Dettol. Helped by a range of non-rinse NPD, it closed the gap on Flash at the head of the surface cleaner market.
TOP LAUNCH 2012
Cif PowerPro Naturals Unilever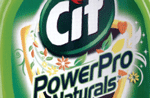 The proliferation of 'green' cleaning products has been a key trend in household products in recent years. It's no surprise, therefore, that Unilever's latest launch has sustainability at its core. The Cif PowerPro Naturals range comprises a kitchen & multipurpose cleaner that is 95% naturally derived and a bathroom version that is 98% naturally derived. Unilever says the PowerPro Naturals range doesn't just clean up when it comes to eco-friendliness - it shines in performance, too.