LED lighting is the new black. At least as far as the fashion world is concerned. Pop star Ariana Grande sported an LED outfit on stage recently, showing just how flexible the technology now is.

But it's in stores rather than in clothes that the real revolution is under way. A technology initially adopted for its low-energy and green credentials, but which offered inferior light in some applications, has improved to such an extent in the past five years that it's the first choice for designers not only in food and drink applications, but fashion too.

That's because it now offers clothing retailers a means to show off their wares to greater effect, enhancing colour with whiter, warmer light much closer to natural daylight and adding drama to displays - all while offering substantial reductions in energy and maintenance costs.

The new generation of LED lights not only render colour better than their predecessors they also offer much greater flexibility in how they are deployed, says Jason Vaughan from the luminaires and solutions team at Osram UK.

"Shoppers can see colours in their natural state and as the designer intended. LED can be aimed with pinpoint accuracy and be easily moved to highlight mannequins or points of interest within a store. It can also provide a pleasant shopping environment without the heat generated from traditional lighting."

Further advantages include less obtrusive or hidden light fittings, greater control over dimming, special effects and even the colour of lighting, not to mention much longer lamp life than traditional non-LED lighting.
Visual interest
Torquil McIntosh, an architect at retail architecture practice Sybarite, is among the many designers to embrace LED for fashion displays. "We are working on a large project in China with 120,000 sq m of retail space and decided to go for LED lighting throughout. We might not have been happy to do that three years ago," he says.

Investing in quality fittings is important, however, McIntosh adds. "It only works well when you have a decent heat sink at the back of the LED light, though. Lower-quality ones lose the quality of their colour temperature rapidly over the course of a year or two."

To get the most from the technology it's also important to understand how the new generation of LEDs works in terms of its performance on the colour rendering index (CRI), says Gary Campbell, a partner at lighting consultants DPA.

"The key thing about lighting clothing is to show colours and texture. You need to go for the highest quality of light you can get. For clothing you need a high red value to accentuate reds as well as blues. And now that LEDs are getting smaller we can also get more directional light and we can show textures and get more punch from them. It offers more control and less flooding to bring out textures, creating visual interest in store rather than just a flat light."

All this comes at a cost, however, says McIntosh. "LEDs of decent quality in aluminium extrusions with a heat sink and diffusing strip don't come cheap. It's around £100 a metre for decent quality. Put that end-to-end on shelf after shelf and it does become expensive but it justifies the cost.

"You might have a great shop fit but if the lighting is poor it can look drab. If you're lighting the product poorly you're not appealing to the customer. We rebranded the Joseph stores recently and the reason why it has been hugely successful is the concentration on LED lighting. It has a major impact on how the clothes look."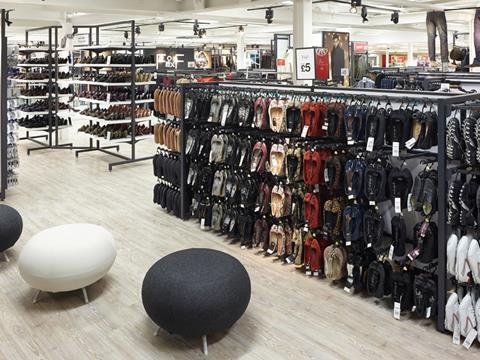 Sales uplifts
So can the supermarkets, with different requirements and limitations on how they approach lighting compared with fashion boutiques, also benefit from the new generation of LED?
Yes, in several ways, says James Fleet, GE Lighting's head of retail specification. "LED allows us to play around with ambient and feature lighting in large retail spaces. We can reduce ambient light levels and increase the feature areas. That creates a lot of drama in store. The John Lewis Partnership and Next are doing it well by taking a scientific approach to their use of light and so improving the look and feel of the generic store."

F&F, George and Tu have all trialled LED as part of a drive to shift more stock and that's led to some big claims about the link between better LED lighting and sales. But Simon Waldron, electrical design manager for Sainsbury's, says conducting studies that produce reliable data is a challenge because there are many other variables at play that can affect sales in a particular store.

"One manufacturer claims to have increased sales in store by between 10% and 12% but there's a lack of academic rigour around the trials I've seen," he says.

However, Sainsbury's is deploying new CRI LED in some stores where it spotlights mannequins, leading ends and perimeters, but is holding back from fully deploying the technology more widely until the financial benefits are clearer. "I'm sceptical about the business case for higher-CRI luminaires at the moment. Higher CRI is not the be-all and end-all. You need to take a more strategic approach," he adds.

And deciding whether to deploy the new LEDs is not only dependent on cost. There are engineering, maintenance and format considerations too, says Waldron.

"There's no doubt the technology is there and that it improves the look of garments and other products but there are no studies to show it increases sales. We have decided to take a step back, wait to see the technology get tried and tested, and understand its effects."
From LED to IPS
As retailers roll out LED lighting retrofits they could also soon be building in indoor positioning systems (IPS) that could give them richer and more detailed insights into their customers by tracking where customers go and what they are looking at in store.
Companies including GE are developing systems that enable customers to interact in new ways in store and for retailers to gather valuable data about them. This will enable them to better target offers, help shoppers with in store navigation or offer alternative products where an item may not be in stock.
LED lighting fixtures are an ideal means of deploying IPS systems because they can provide both the low voltage power and connectivity needed to operate the systems, while their elevated position offers the best vantage point and minimises the risk of interference or damage, says Fleet.
"It's all about creating a more intimate customer shopping experience. The technology has moved so quickly it offers a chance to optimise the customer experience at the same time as you are investing in LED."