Häagen-Dazs reached more people on Facebook than any other ice cream brand this summer, analysis carried out exclusively for The Grocer has revealed.
This article is part of our Ice Cream Report 2014.
The brand inspired more than 70,000 interactions in under a month with a photograph of its rum and raisin ice cream posted on its Facebook page on 16 July.
That's several times more than closest rival Wall's, which attracted 13,000 interactions with a post relating to the Twister brand posted on 17 July.
But Häagen-Dazs isn't necessarily as popular on social media as it might first seem, says Steve Sponder, MD of content marketing agency Headsteam, which carried out the research.
"It's highly likely that Häagen-Dazs has supported this post with paid media to increase reach," says Sponder.
"As organic reach of content is becoming more challenging, brands are often required to support their content with paid media to reach a higher percentage of its fans."
Other brands extended their reach on Facebook without necessarily spending so much, or anything at all, according to Headstream.
These players used a combination of humour, competitions and the promise of free ice cream to encourage interaction on Facebook, says Sponder.
"A brand placing content across social is vital in order to remain relevant, especially when wishing to compete against more dominant brands," he says.
"Nowadays, the always-connected consumer is ready to listen and engage with brands, as long as they have something to offer. Quality of content is therefore essential."
This summer's top three ice cream posts:
1. Häagen-Dazs (1.3m Facebook followers)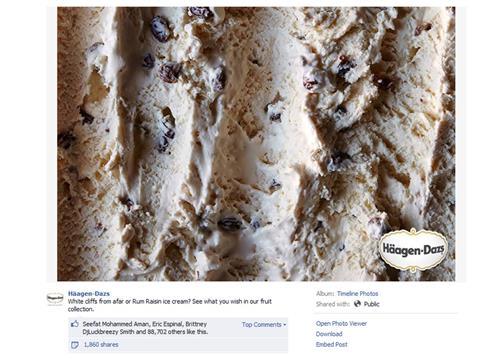 16 July: White cliffs from afar or Rum Raisin ice cream? See what you wish in our fruit collection.
Likes: 69,742 Shares: 1,122 Comments: 1,210
No; it doesn't look much like white cliffs to us either. Nor does the post make much sense. So why did it cause such a stir? Häagen-Dazs most likely paid Facebook to increase the reach of the post, according to Headstream, with one possible tactic being to retarget people who had recently visited the brand's page. The post was also timely and simple; the sun was shining and the school holidays were nearly upon us.
2. Wall's (7.1m Facebook followers)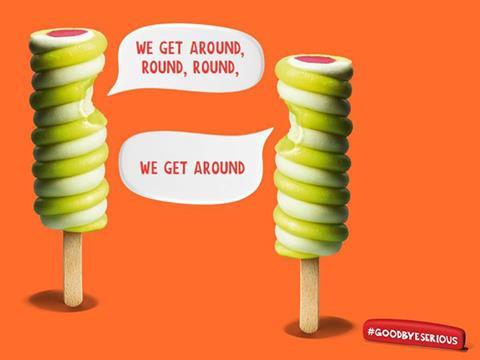 17 July: Yikes, it's a hot one. Heading for the sand? We've got the only Beach Boys you need right here…
Likes: 12,176 Shares: 425 Comments: 508
As the mercury was rising Wall's ramped up its Facebook activity to put its brands front of mind. The post, which featured the Twister brand, used humour likely to appeal to its younger target audience, says Headstream. It also illustrated the brand's strategy of tailoring its posts to reflect current events. Earlier in July to mark the World Cup final, it posted content featuring Twisters in the German and Argentinian colours for example.
3. Magnum (9.5m Facebook followers)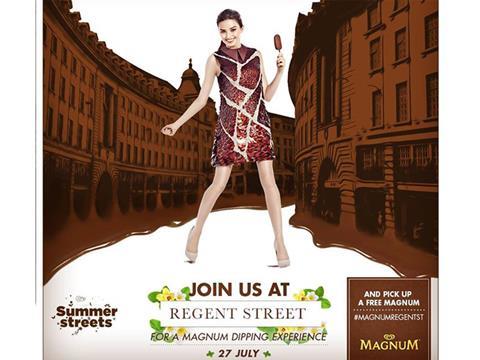 22 July: No plans this weekend? Celebrate our 25th birthday with us at Regent Street in London from 12-5pm on Sunday 27 July and enjoy a freshly dipped Magnum on us! With 25,000 to give away, the party is only just beginning…
Likes: 1,801 Shares: 415 Comments: 250
There's only one thing better than ice cream, it seems: free ice cream. Magnum got quite a reaction with this post publicising an event at Regent Street to mark its 25th anniversary, which included a giveaway of free, freshly dipped Magnums. The post shows how Magnum is using a breadth of social media – it also uses Pintrest and Instagram – as part of an integrated campaign that includes experiential activity.
Top 10 ice cream posts on social media
| | Brand | Facebook followers | Interactions |
| --- | --- | --- | --- |
| 1 | Haagen Dazs | 1,267,573 | 72, 074 |
| 2 | Walls | 7,113,871 | 13,109 |
| 3 | Magnum | 9,535,309 | 2,466 |
| 4 | Ben & Jerry's | 7,702,547 | 937 |
| 5 | Kelly's of Cornwall | 22931 | 493 |
| 6 | Fab | 51,751 | 248 |
| 7 | Mackies | 5372 | 243 |
| 8 | Cornetto | 10,067,326 | 102 |
| 9 | Carte D'or | 741,724 | 95 |
Methodology : Content marketing agency Headstream, the agency responsible for delivering the Social Brands 100 for the last four years, compiled a ranking based on the number of interactions incurred on individual pieces of branded content posted across Facebook within a period of one month (11 July-11 August 2014). For the purpose of this report, an 'interaction' was deemed either a like, a share or a comment. Headstream monitored Britain's top selling ice cream brands as defined by IRI.
Read more of our Ice Cream Report 2014 .
In association with: