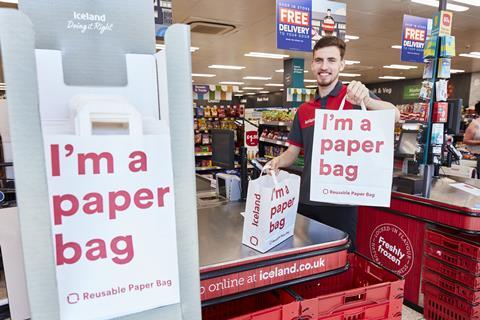 Iceland abandoned a single-store loose produce trial after it led to a 30% drop in sales, according to the supermarket's MD Richard Walker.

The frozen food specialist introduced 35 packaging-free fruit & veg lines, including bananas, oranges, limes, leeks and carrots, in a trial at a north Liverpool Food Warehouse in February.

The loose produce was sold at lower prices to packaged equivalents to encourage uptake, in a trial also supported by staff training and new weighing and ticketing facilities.

Nevertheless, it had to be scrapped three months later after it knocked 30% off sales as well as increasing wastage.

Walker revealed the trial's failure in a blog addressing Iceland's fall from first place to seventh in Greenpeace's annual league table of supermarkets and plastic use.

As well as reducing plastic, Iceland had a duty to keep prices low and the business profitable, he argued.

"So when we ran a trial selling loose produce in one store earlier this year, and sales fell 30%, I swiftly concluded that this was not a sustainable solution for Iceland, though it may well work for others," said Walker.

"Our customers come to us for convenience and value, and we must respond to their needs. Our small, limited range high street stores don't have the space for refill solutions for food and household products, we don't have weighing facilities, and I certainly can't justify investing millions in new tills and scales to offer something our customers don't want to buy.

"We will look at ways to offer customers refills of their water bottles and we will continue working on plastic-free produce solutions, but selling loose cannot be the way forward for us."

An Iceland spokesman told The Grocer: "We don't currently have weighing facilities to sell produce loose and on the evidence of this trial there is never going to be a business case for making the substantial investment required to install them."

Singling out Waitrose, which sells loose fresh produce from a number of stores in its 'Unpacked' trial and came top of this year's league table, Walker said: "Our customers do care, but unlike Waitrose shoppers they don't have the luxury of being able to spend more money. That's why we have to be more innovative and invest in solutions without charging more at our tills. This is vital if we are to democratise environmentalism, as I believe we must."

Walker said Iceland's 10-fold increase in sales of bags for life from 3.5 million to 34 million, revealed in the Greenpeace report, was a source of "regret". As a result, Iceland would roll out the option of paper carrier bags across the estate next year, following a 40-store trial launched in July.

But Walker took aim at a Greenpeace claim that Iceland sold 116.5 million plastic water bottles in 2018, a 21.4% increase, compared with Tesco's 221 million.

"It seems literally incredible that Iceland, with 2.2% of the UK grocery market, sold half the number of plastic bottles shifted by Tesco, with a share more than 13 times greater," he said. "I think one of us needs to invest in some new batteries for our calculator."
The Grocer understands Aldi also raised concerns over the water bottle data, after being shown by Greenpeace its own figures alongside those of other supermarkets. However, at that point Greenpeace had already provided the data to the Sunday Times.
Aldi had noted that the figure it had provided to Greenpeace, of 477 million, was for all plastic bottle sales across all brands and products. Meanwhile M&S and Waitrose had only provided data for 500ml water bottles and Tesco only for own-label water bottles. Sainsbury's and Asda did not provide data.
Environmental Investigation Agency ocean campaigner Juliet Phillips, who co-authored the report, said: "All the data contained in the report is self-reported by the supermarkets. We do not have the means to conduct a third party audit so have to rely on the information provided. We encouraged all companies to report transparently on their sales."
She said it was correct that supermarkets provided "different datasets" and this information was given to journalists.
Walker said Iceland remained "single-mindedly focused" on achieving its pledge of removing plastic packing for all own-label lines by 2023.

"Since the Greenpeace/Environmental Investigation Agency survey results were compiled in the summer we have made even more progress," he said. "We have improved the recyclability and the labelling of our current packaging. We have moved 100 million frozen meal trays a year from black plastic to sustainable board-based alternatives, and will end all packing of own label lines in black plastic by the end of January 2020."