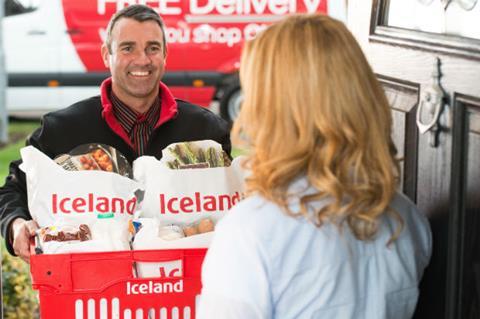 Iceland has launched a 20-minute delivery service with Uber Eats in London, as part of a major scaling-up of its online capacity across the country.
The new service means customers can use the Uber Eats website or app to order groceries from an Iceland store in Hackney.
Iceland is also looking to launch same-day delivery more widely, MD Richard Walker said as the supermarket revealed its online expansion had created 3,000 new jobs. Outside the Uber Eats trial, next-day is the earliest the frozen specialist currently delivers online orders.
Iceland had increased deliveries by 300% in the past 12 months, to about 40,000-50,000 a day, with the capacity for 750,000 a week, it said.
The roles included store pickers and drivers, and the delivery fleet was also being increased by 30%, Iceland said.
Talking on the Radio 4 Today programme this morning, Walker said: "It's certainly more than Ocado every week. We have a big online operation. Obviously we're one of the smaller of the UK grocers, with a market share of around 2.5%. That share has grown since Covid, but actually we do outperform in online and punch above our market share."
Walker also argued Iceland's store-pick model protected profitability better than rivals'. "Our 1,000 shops, on average the customers live about three miles from them and therefore our stem mileage is that much shorter, and that enables us to maintain profitability for online," he said. "So, I say we do have centralised pick centres but they're called shops and we've got 1,000 of them."
He acknowledged the expansion was helping to make up for a loss of footfall in town and city centre locations, while arguing: "It also keeps the relevance of the high street, and our online business is now supporting our high street business."
David Devany, Iceland chief customer and digital officer, said: "We've been blown away by the demand for deliveries over the past six months, with a four-fold increase in online orders since the beginning of lockdown. We see no sign of a slowdown in the demand for deliveries in the run-up to Christmas, so a recruitment drive for more permanent staff was essential.
"Our store and delivery colleagues have gone above and beyond during lockdown, introducing incredible measures to help their local communities, and I'm proud that our business has been able to adapt to the changing needs of our customer."
The Grocer revealed earlier this year that Iceland was working to increase its online capacity by 250% and had recruited over 3,000 temporary store workers and 1,000 drivers. A spokesman said today that the 3,000 new roles consisted of some of those now moved from zero-hour to standard contracts.
Last week, as it emerged Ocado and M&S had cancelled some customers' online orders on the day the partnership between the two went live, Iceland tweeted offering them next-day delivery.
We're hearing a certain supermarket collab that launched today hasn't gone quite to plan…

Let us know if you've had your @Ocado/@marksandspencer order cancelled and we'll deliver to your door tomorrow 💪

Leave it to the professionals, ey 😉 pic.twitter.com/E38AEeajA4

— Iceland Foods ❄️ (@IcelandFoods) September 1, 2020