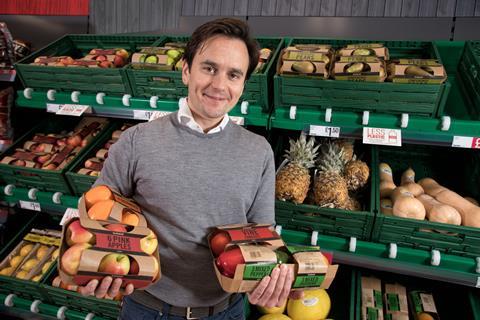 Iceland MD Richard Walker has criticised other retailers' loose produce and refill station trials, claiming they are impractical and increase food waste.
A number of retailers have attempted getting customers to buy more loose produce and fill their own containers from dispensers, but the trials are not accessible or affordable for the average shopper, Walker said.
Last year Iceland abandoned a single-store trial of 35 packaging free fruit & veg lines after three months when it knocked 30% off sales.
The frozen food specialist recently announced a different approach, involving new packaging such as cardboard and paper, and in some cases a small amount of plastic, for 38 lines in 33 stores. Iceland has hailed it as "industry leading" and "truly scalable", claiming it cuts plastic by 93% on the 38 lines and stands to save 440 tonnes a year if rolled out nationally.
Explaining how he thought it differed from other retailers' plastic efforts, Walker told The Grocer: "We are the only retailer bringing the ability to move away from plastic to the average person on the high street. You will see trials of loose produce and refills elsewhere that are not scalable, affordable or practical for most people whilst also increasing food waste."
Retailers trialling refill stations include Waitrose, with its four-store "unpacked" initiative launched last year. Customers can fill their own containers with a choice of 200 products from pasta to detergent using pick & mix-style dispensers. They must weigh each container twice at a weighing station, once empty and once full, and a printed label must be attached each time.
M&S has introduced a refill aisle in Hedge End dispensing produce including rice, pasta, cereals and nuts. Reusable plastic containers are on sale for £7.50, and a similar double-weighing process is in place.
Asda has partnered with Unilever and Kellogg's to launch refill stations at a Leeds store. Coco Pops, Rice Krispies, PG Tips and a raft of own-label products such coffee, rice and pasta will be in banks of dispensers from May.
Meanwhile virtually all major supermarkets are exploring plastic-free fruit & veg, through measures such as reusable or paper produce bags and the introduction of more loose lines.
However, a recent Wrap report pointed to supermarkets' efforts to cut down on plastic as a factor in retail food waste increasing 6% between 2015 and 2018. The "operational challenges" of loose produce may have had the short-term effect of increasing waste, the report said.
Supermarkets have also attracted criticism for charging more for loose lines than their packaged equivalent.
In November last year, after Iceland's Food Warehouse loose produce trial was scrapped, Walker said: "I certainly can't justify investing millions in new tills and scales to offer something our customers don't want to buy."