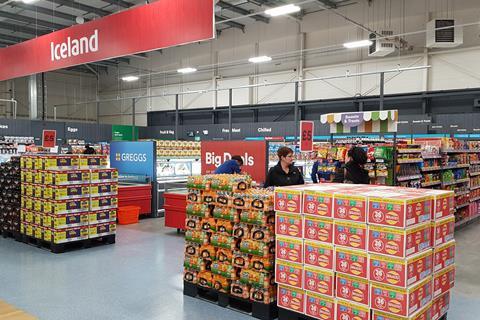 Iceland in-store supermarkets are to roll out to 19 more branches of The Range by the end of March, with more to follow in the summer.
The expansion will take the number of branches of The Range with an in-store Iceland to more than 50 by April.
Iceland outlets began appearing in The Range stores in September 2018 in a "strategic alliance" between the two businesses. There are now more than 30.
The planned further rollout was revealed by CDS Group, the construction company delivering the in-store supermarkets.
This week would see "the start of [the] 2020 rollout of Iceland stores within The Range," the company wrote on LinkedIn. "CDS group will deliver 19 fully operational stores by the end of March, with more to follow in the summer."
Each 'store within a store' sells Iceland's complete food range and is staffed and operated by The Range.
The home and garden chain has about 175 UK stores, averaging about 40,000 sq ft. Iceland gets a comparable space inside to one of its own stores, which average about 5,000 sq ft.
The Range sells some 65,000 products across 16 departments including homeware, DIY and gardens. Iceland's products bring the total to about 80,000.
The Range has also been serving Iceland ready meals and pizzas in its in-store cafés since autumn last year. The same meals can be found in freezer cabinets in the cafés, so shoppers who like what they've tried can add it to their trolley straight away.