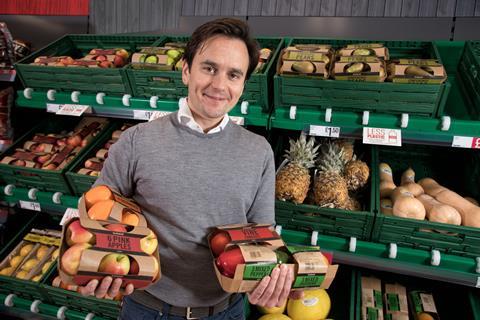 Iceland is trialling cardboard and paper packaging on swathes of fresh fruit & veg, in a move it says could save over 400 tonnes of plastic.
Some 38 lines are getting new packaging solutions that either reduce plastic content or eliminate it altogether. Overall the measure reduces plastic packaging used on the lines by 93%, according to Iceland.
It launched as a trial in 33 stores this week, which alone could save seven tonnes of plastic a year, a figure that will rise to 440 if rolled out across the estate, Iceland said.
The measures include putting apples, oranges, tomatoes and peppers in cardboard boxes, and wrapping celery and spring onions with paper bands. Other produce such as grapes, blueberries and kiwis are now in cardboard boxes with a plastic film top.
Iceland said the trial involved 29 "UK-first packaging solutions", which were the result of months of testing and development with suppliers.
Phase one sees 27 lines get the treatment, with 11 more to be added in phase two from 4 March.
"We understand that consumers are particularly aware of the amount of plastic being used to package produce across the industry and we've been working hard to develop user-friendly, sustainable alternatives," said Iceland MD Richard Walker.
"This trial is the largest ever of its kind and we're excited to see how customers respond to the range of solutions provided. The trial is truly scalable and our findings will help to further define our strategy for eliminating plastic across our produce offering.
"Most importantly, customers will not have to pay a premium for the plastic-free or reduced plastic products as prices will remain exactly the same, and we're proud to be democratising choice in this way."
Last year Iceland launched 35 loose fruit & veg lines in a single Food Warehouse store, but the trial was scrapped three months later, with Walker revealing sales had dropped 30%.
A trial of bananas in paper bands launched in autumn 2018 had also been abandoned months later when it was found to have increased in-store food waste, Iceland said today.
Phase two of the latest trial would see bananas back in paper bands, but this time in new in-store fixtures using "hammocks" to better protect them from damage and improve their appearance.
It showed how Iceland was using a "trial and error approach" and innovation to meet the commitment it made in early 2018 to eliminate plastic altogether from own label products by 2023, Walker added.
"When we made our industry-leading commitment to remove plastic from our own-label products, we knew we would encounter obstacles along the way, including unsuccessful launches. We continue to be transparent with our customers about our successes and learnings, and bring them along on the journey as we use their feedback to improve and innovate."