Or are big suppliers getting confused over who they're targeting?
Is the market for light beer drying up? Recent events certainly suggest there is only so much growth to go around.
Last week The Grocer revealed Amstel 66, Heineken's 3% abv, low-calorie version of its popular lager, had been unceremoniously ditched by the brewing giant – despite racking up a small but respectable £1.5m in sales in its first year [Nielsen 52 w/e 15 May 2021].
The brewer didn't give much away in its explanation – saying it continually reviewed its portfolio "to ensure we are providing… the best possible range of products" – but the beer's demise suggests there were doubts over its prospects.
Meanwhile, Budweiser Brewing Group's Michelob Ultra saw sales plunge from £4.3m to a meagre £816k over the same period – a stark contrast with its performance in the States, where it is one of the beer category's dominant forces.
The silver lining for BBG is that Bud Light, which it relaunched in 2017, continued to grow, rising by £4.3m to £48.6m [Nielsen].
But the fortunes of Amstel and Michelob are a far cry from how light beers have performed across the Atlantic, where the likes of Bud Light, Michelob and Coors Lite (the latter of which lost £1.6m in UK grocery last year) dominate the beer market.
So is there a limited thirst for light beers in the UK? Or is the picture more complex?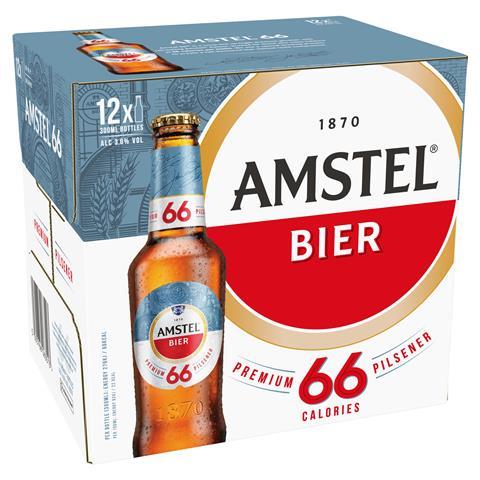 It could all come down to the muddled definition of light beer in Britain. So suggests Tom Bell, owner of retailer Drinkwell, which specialises in low-calorie and lifestyle drinks. Big brands are mistakenly lumping together shoppers who want to cut down their alcohol intake and those who want to cut down on calories.
"In America those [mainstream] brands are 4.2% abv, but in the UK [the brewers] have come in and reduced the abv."
This is misguided because "abv is first and foremost in the consumer mindset when they want to reduce calories" he says. "As soon as you go lower than 4%, people associate [the drink] as being 'low-alcohol'."
Indeed, Yabba beer co-founder Jonny Parker came to a similar conclusion when conducting research at the time of his brand's launch in May.
"Consumers weren't buying existing offerings because the taste felt like a compromise compared to the beers they were already drinking," he says. "We are trying to offer drinks for people trying to moderate calories but not alcohol. Doing both is trying to fulfil too many messages at the same time."
Low-cal categorisation
It's crucial to remember plenty of drinks specifically targeting the low and no market – with an even lower abv – are actually fairly high in sugar and calories says Drinkwell's Bell.
A Heineken 0.0, for instance, contains 69 calories per 330ml. That's on the same level as a fizzy pop like Rubicon Mango (65 calories per 330ml can) or Tango Orange (63 calories per 330ml). Both of those soft drinks have a red traffic light for their sugar levels.
"I don't know why [these light beers] aren't 4.2% and low-cal in the UK. They peddle the same message in America, they do all the lifestyle categorisation and bring it over here and then reduce the abv and it will never work," says Bell.
Which makes it somewhat confusing that Bud Light, which has a relatively low abv of 3.5%, has managed to crack the UK market where others have failed. The brand, wagers Bell, has succeeded purely "because of huge spend and because it is very, very cheap".
"We are trying to offer drinks for people trying to moderate calories but not alcohol"
Not to mention that its ongoing, medieval-themed 'Dilly Dilly' comedic campaign completely sidesteps the issues of calories or 'health' credentials – instead building its popularity on the prestige of its parent brand. In short, says Bell, "Bud Light stands on the shoulders of being Bud Light".
Looking ahead, with mainstream options struggling, Jason Clarke of Genius Brewing believes there is significant opportunity for craft brands.
"Until now, craft brewers have simply ignored the health agenda, producing high-abv, high-calorie beers almost as a badge of honour," he says.
"But the craft space is rapidly evolving and now recognising the value in the healthier drinking market."
As evidence, he highlights "the rapid growth of session IPAs with a raft of tasty new IPAs around 4% abv – meaningfully less alcohol and calories versus 'old school' 6% IPAs".
So perhaps the smaller players could end up having the last laugh in the light market.


Daniel is The Grocer's food and drink editor and is responsible for our product coverage across all fmcg categories.

Daniel has written about food and drink for the majority of his career: prior to joining The Grocer in 2017, he covered food and drink news on pub industry title The Morning Advertiser, and wrote features for VICE magazine.

Follow Daniel on Twitter: @WoolfsonExists