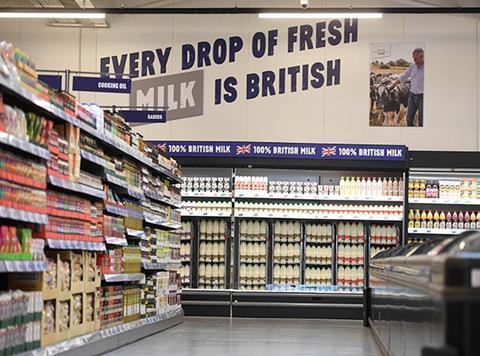 Tesco's new Jack's discounter will source all of its milk from the retailer's Sustainable Dairy Group, The Grocer can reveal, while 100% of its fresh meat will also be sourced from UK suppliers.
Confirmation it would source from the TSDG comes despite industry speculation during the past few months that the sourcing model, which guarantees farmers are paid above the cost of production, would be "too expensive". An own label four pinter costs £1.09 in Jack's, the same price charged by Tesco.
The 100% British meat commitment also represented a significant increase in the amount of home-reared fresh meat sourced by Tesco, with just 64% of pork, 39% bacon, 70% lamb and 72% of its beef sourced from the UK earlier this summer [AHDB Beef & Lamb Watch, June; and AHDB Pork Watch, July].
Chief executive Dave Lewis unveiled the long-awaited store concept to the nation's press at Chatteris in Cambridgeshire this morning, with the pledge that eight out of 10 food and drink products sold in Jack's would be "grown, reared or made in Britain".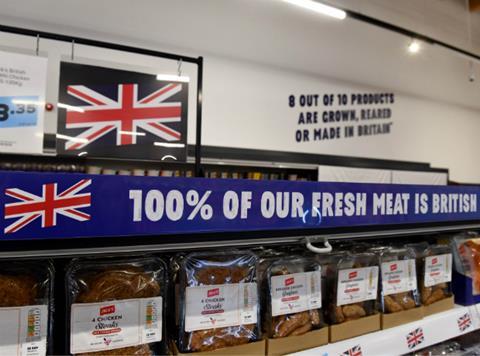 This meant "either the main ingredients are British, or the products are produced in Britain", Tesco said.
The actual proportion of UK sourced food and drink was based on seasonal variations but would "never fall below 76%", it added, as it promised Jack's would "proudly support Britain's food producing communities".
In addition to its commitments on fresh milk and meat, Jack's will also offer an array of British-grown fresh fruit & veg grown by Tesco strategic partner G's Fresh, and even British-made camembert.
The launch of Jack's and its support for British producers was encouraging, as "we know more and more shoppers want to buy high-quality, British produce", said a spokeswoman for the NFU.
"We are also pleased to hear that Tesco will be using milk from the Tesco Sustainable Dairy Group," she added. "The NFU will be speaking to Tesco in the coming weeks to further understand what this means for our farmer and grower members."
Her comments were echoed by British Poultry Council CEO Richard Griffiths, who said the industry body "welcomes the commitment to British-produced food".
Suppliers were also "pleased that the skills and standards inherent in our sector, and our commitment to high-quality food, are recognised as the first choice for consumers", Griffiths added. National Pig Association CEO Zoe Davies said she would "welcome any venture that supports greater use of British produce", particularly pork.
"Clearly the pricing will be a key factor here though, so it will be interesting to see how they manage that," Davies added, while British Meat Processors Association CEO Nick Allen described the 100% British meat commitment as "commendable".
Tesco said it would open two Jack's stores, at Chatteris and in Lincolnshire, tomorrow, with 10 to 15 store openings planned during the next six months.