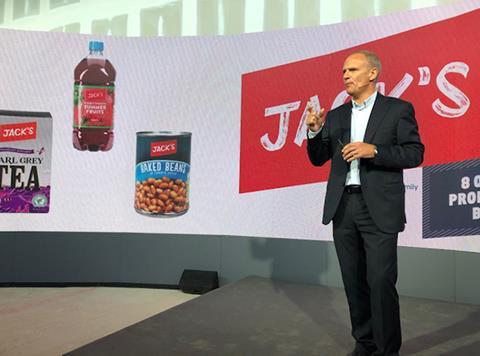 Tesco has unveiled its much-anticipated new discount format, called Jack's, as it seeks to fight back against Aldi and Lidl.
The chain, named after Tesco founder Jack Cohen, will carry roughly 2,600 product lines. It will be headed up by Lawrence Harvey, currently Tesco retail director for the UK central region and previously an operations director for Aldi.
The first two Jack's stores will open tomorrow (20 September) in Chatteris, Cambridgeshire and Immingham, Lincolnshire. Tesco said it planned to launch 10 to 15 Jack's stores in the next six months, using entirely new sites next to existing Tesco stores and "a small number of converted Tesco stores".
British provenance will be a key point of difference for Jack's, with eight out of 10 products grown, reared or made in Britain.
The vast majority of products will be Jack's branded, with a few key brands thrown in. Contrary to initial speculation, Tesco's controversial farm brands, such as Redmere Farms, will not be stocked in Jack's stores.
Other key features of the new stores include:
A 'when it's gone it's gone' aisle with general merchandise special buys
A 'fresh five' special offer on fresh fruit & veg
A dedicated express checkout app that allows customers to keep track of their basket spend as they shop
Tesco CEO Dave Lewis said: "Jack Cohen championed value for customers and changed the face of British shopping. He's an inspiration for all of us and that same spirit still drives Tesco now.
"It's fitting that today, we mark the beginning of Tesco's celebration of 100 years of great value by launching a new brand, and stores bearing his name: Jack's. Great-tasting food at the lowest possible prices with eight out of 10 products grown, reared or made in Britain."
Low-cost business model
Tesco described the model for Jack's as "a low-cost business model that is designed to keep costs low and prices down."
It added: "It's a no-fuss approach with a simplified range of products, no fancy fixtures or fittings, and no added extras, just good quality at low prices."
This breaking news story is being updated.