UK farmers have criticised EU efforts to curb food commodity speculation, claiming new rules could actually increase price volatility in the marketplace.
The European Parliament and the European Council reached an agreement in principle last week to amend the Markets in Financial Instruments Directive (MIFID), which governs commodity derivatives linked to products such as wheat, soybeans and sugar.
The deal established "an effective system of limits on the positions taken by financial players, to curb speculation and help decrease price volatility and inflation of staple foods and other commodities", claimed Arlene McCarthy MEP, vice chair of the Economic and Monetary Affairs Committee and one of the lead negotiators for the European Parliament.
However, farmers claim derivatives, such as futures and options, provide them with risk management tools, and limiting them could make it harder to manage business risk, which could in turn increase volatility.
Food speculators played a key role in arable farmers' future cropping decisions, and calls to take them out of the market represented a real risk to liquidity, said Guy Gagen, chief arable adviser at the National Farmers' Union. "As market makers, they are necessary in helping make sure the right price signals reach farmers, so they plant the right crops wanted by the market when the crop is eventually sold."
Food speculators did amplify food prices at times, but they also allowed buyers and sellers to manage price risk, added Duncan Rawson, partner at consultancy EFFP. "If you don't have the speculators sat between them, the markets don't work."
Food speculators were particularly important in fuelling trading in commodity markets which were still in their infancy in Europe, such as dairy, he added.
In contrast, NGOs have given the EU agreement a cautious welcome. "Food speculation costs the world's vulnerable the food on their plates. A new EU law that cuts this unethical trade is welcome," said Anne van Schaik, accountable finance campaigner at Friends of the Earth Europe. But as national governments would set limits on speculation, it remained to be seen whether they would "rein in this destructive practice," she added.
The deal still needs to be formally approved by the European Parliament and Council, which they are expected to do ahead of the European Parliament elections in May.
The agreement allows for the new rules to be policed by the European Securities and Markets Authority.
If approved, it will be the first time the EU has sought to regulate trading in commodities to tackle food price speculation by policing excessive trading.
commodity prices: tight supplies push up price of basmati rice
As highlighted by The Grocer two weeks ago (11 January), Basmati prices remain on an upward trend. Increased demand, coupled with tight supplies from countries such as India and Pakistan, have pushed prices up, with basmati now 15.6% more expensive than a year ago and up 11% month on month.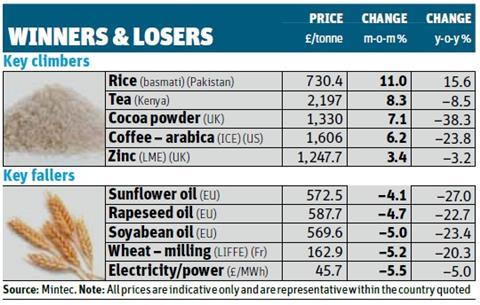 Tea, cocoa powder and arabica coffee also continue to feature in our list of key monthly risers, even though prices for all three are down on a year-on-year basis. Arabica prices have been boosted over the past month in response to forecasts predicting production will fall by 4% in 2014.
Meanwhile, wheat prices in Europe are falling thanks to a strengthening in the euro and because of fears Egypt - the world's largest importer of wheat - will favour supplies from the Black Sea region this year, rather than from the EU.