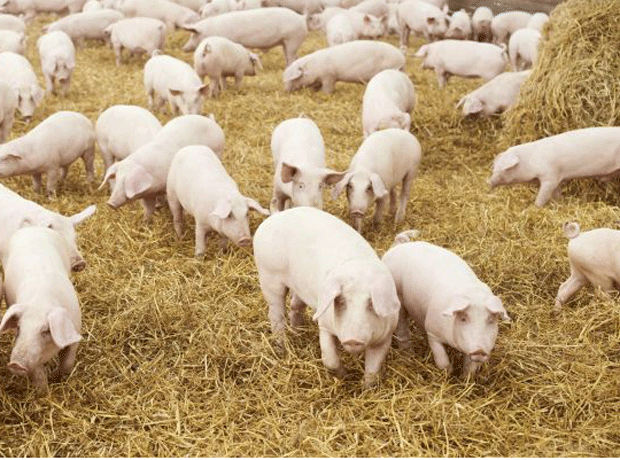 UK pig prices have fallen for the first time since late February as a result of lower feed prices and reduced demand, but experts are warning that over the longer term prices will remain firm.

The EU-spec DAPP - the most widely quoted pig price in the UK - stood at 168.81p/kg last week and at 168.25p/kg this week, down from the peak of just below 169p/kg seen a couple of weeks ago. It is the first time the DAPP has fallen since late February.

Pig prices have eased partly because producer input costs - especially feed wheat - have started to come down, and because key pork cuts, such as loins and legs, have suffered from slightly reduced consumer demand.
Good global supplies and reduced demand from India - the world's largest consumer of palm oil - have pushed down EU palm oil prices to £531.6/t: nearly 20% less than this time last year and down 4.3% month on month. Global production for 2013/14 is forecast to come in at 58.1mt, up 5% year on year.
Cocoa powder in the UK also remains on a relentless downward trajectory. At £1,635/t, it is 34% cheaper than a year ago, having fallen 5.1% over the past month. Rye is down 30.5% year on year because of good EU 2013/14 production forecasts.
Electricity remains the key gainer, increasing nearly 8% over the past month and up 23.4% year on year as a result of recent higher gas prices.
"We have started to see some consumer resistance to higher pork prices, which has resulted in a little bit of a drop-off in sales on some cuts," said ADHB/Bpex analyst Stephen Howarth. "Loins and legs have also struggled in the recent hot weather, and they are the bedrock of the British market in terms of getting the full value out of the carcase."

In addition, there had been some retailer resistance to price increases, further adding to downward pressure on prices, Howarth added.

These factors were likely to continue to push down pig prices in the short term, but prices were expected to remain comparatively high in the longer term, Howarth said. "There are still plenty of upward pressures around," he added, citing increased demand for British-produced pork following the horsemeat scandal as a key factor. "Demand for British pork is still high, and that will keep prices relatively firm," he said.

Given the UK's reliance on pork imports, EU pig prices would also play a major role in determining British pig prices, and at present these were increasing quite strongly.