The tagline for Morrisons' much anticipated online grocery debut is 'From Market Street to Your Street'. But it's not just a catchy little sound-bite in the mould of Tesco's 'You shop, we drop' or 'Freshly clicked' slogans - with the explicit reference to its fresh offer, the retailer is trying to communicate what it believes makes its online proposition so different. Of course, the burning question is: will it work?
Morrisons will make its first online grocery delivery on 10 January, with CEO Dalton Philips making the first house call personally. For Philips, it will mark a significant step on his journey to transform Morrisons from a single-format retailer, as it was when he joined in 2010, into a genuinely multi-channel operator.
"It is different to the rest of the market and unmistakably Morrisons," he claims. "It leverages our core strengths of expertise in fresh food, craft skills, unique supply chain and the great value we offer. We are unashamedly a fresh food business."
There are certainly some interesting new ideas being explored in the launch of Morrisons.com. Some will be exclusive to Morrisons and others it will adopt from Ocado, with which it signed a £216m deal in May to drive its online ambitions.
When Morrisons announced its decision to use Ocado technology, many analysts suggested its March 2011 investment in a 10% stake in FreshDirect was money down the drain - more precisely £32m down the drain. Morrisons, however, insisted this was not the case and arguably one of the most interesting new features of its new site is indeed modelled on the way the New York-based online-only retailer operates its business. Morrisons obviously makes a lot of its fresh offer and Philips is keen for the new site to quell the usual consumer concerns about buying fresh food online as opposed to in-store - where they are free to look at, smell and touch the products before popping them into their trolley.
As online food MD Simon Thompson attests: "If you are not picking the item for yourself, then how do you know the quality will be great?"
In a bid to offer consumers greater assurances over quality, Morrisons will, like FreshDirect, offer a five-tier rating system for fresh produce. Items will be marked as 'never better', 'great', 'good', and 'average' or 'below average'. These rating will be assigned by the various produce teams without interference from the commercial teams.
"By 2015, we will be a very different business competing on an equal basis with our competitors for the first time in a decade"

Dalton Philips
According to Thompson, this system was crucial to FreshDirect building trust with consumers and gave it a business platform set it apart from rivals.
Industry watchers certainly seem to be impressed. One leading analyst says this may well be something other online operators find hard to copy, due to Morrisons' vertical integration model, which he argues gives Morrisons an edge in fresh produce.
"When you bring something new to the market you have to look at how easy it is going to be for rivals to replicate it," he says. "Some of the other features Morrisons is going to be using will be simple enough for competitors to adopt, but this one won't be. Morrisons will always be happier competing on quality rather than price."
Another major new feature Morrisons is hoping will set it apart is a doorstep fresh check - drivers will give shoppers the opportunity to check the quality of fresh items and will take any deemed unsatisfactory away and remove them from the bill before the shopping is paid for. The next day the customer will receive a voucher for the value of the item as compensation for the inconvenience caused.
"This sounds like a good idea," argues the analyst. "But if this turns out to be the thing that really revolutionises online grocery shopping, then it is something that rivals will be able to latch on to pretty quickly."
In other words, it won't necessarily set Morrisons' online offer apart for long. What the retailer will be hoping does distinguish it from the rest in a lasting way is the Market Street credentials of its meat and fish offer. On the new site, a virtual butcher will allow customers to choose the area of the cow their steaks come from as well as the thickness of the cut - thin, standard and thick. The steaks will then be cut at its facility in Yorkshire and packed in specially developed vacuum-packed steam-sealed trays to ensure they arrive in the best possible condition. Shoppers can also select fish prepared by Morrisons' fishmongers in Grimsby.
In fact, the retailer has chosen bespoke packaging solutions for a number of products. Its bananas come in bubble wrap while its mangos will arrive in specially designed socks, for instance. The retailer's florists will wrap bouquets in protective seed packs before placing them by hand in secure boxes. And cakes hand-finished in stores close to the Dordon fulfilment centre in Warwickshire that Morrisons is sharing with Ocado will come in specially designed boxes to ensure they arrive intact.
"Many hours have been spent developing packaging specifically produced to ensure our products arrive on the customer's doorstep in the most perfect condition," boasts Thompson. "After all, they will be taking a different way home than if you had put them in your basket and drove them home."
City welcomes move
Thanks to such touches, allied with the features it will benefit from through its sharing of the Ocado platform, the general response from the City has been positive - despite how late its move online has been. The warehouse picking model is widely seen as reducing substitutions, while, as with Ocado, Morrisons customers will be able to log on to the dotcom site via Facebook and will also be able to import favourites lists from all of the other major online grocery sites.
In a note published after last week's presentation, analysts at HSBC Global Research called the rollout "a very credible and well-thought-out strategy for its online offer".
However, while they praise the special packaging and overall offer, they question whether Morrisons will be able to overcome such a lengthy absence from the online and convenience arenas, an absence Dalton Philips has consistently blamed for Morrisons' below-par performance over the last couple of years.
The note, entitled 'Online: Self help or self harm', says: "Overall, Morrisons has done a good job catching up, and it looks like it could leapfrog some of its competitors. But the real question is, should it be doing this given its damaging effects on returns? Online does not solve the core problem of a declining industry."
The HSBC analysts also warn that moving online could cannibalise sales from its core estate, which they estimate are declining by around 5% in volume annually. "Moving into convenience and online will not stop this decline and may even make it worse. Holding on to sales via an online offer may help protect headline sales, but like-for-like sales declines must be having a devastating effect on profits and returns."
Morrisons may have been better off looking to improve its fundamental offer rather than emulating the rest of the big four, they add. "After all, Aldi is growing at around 30% per annum and it has no online offer. There are alternative solutions in our view," the note concludes.
Morrisons' food online roll-out
Start of 2014: Warwickshire, West Yorkshire
Middle of 2014: London, South Yorkshire
End of 2014: North West
Of course, this is not an argument Philips is likely to buy, although he recognises that, despite a predicted return to like-for-like sales growth during the current trading quarter, simply going online in January is not going to solve all of Morrisons' problems at the drop of a hat, particularly as the rollout will take time.
First to come on stream will be Warwickshire, basically the area surrounding the Dordon depot. Then in February, it will begin servicing West Yorkshire via a hub in Leeds. In the summer, Morrisons will hit London and South Yorkshire before targeting the North West by the end of next year, by which time the retailer's online offer will be accessible to some 13 million homes and around 50% of the country.
The geography of Morrisons' rollout is significant. There may be a danger of online cannibalising sales in its core estate, but it is currently losing business from its own shoppers as a result of not being online, says Philips. Almost a third of Morrisons shoppers (32%) also buy groceries online with its rivals. Philips says these shoppers are mainly using Tesco and Asda's dotcom services - the former because of its size and the latter because of the overlap in the traditional heartlands of both Asda and Morrisons.
Much has been made of Morrisons' desire to crack London. Asda, too, is also currently concocting a master plan to make it big in the capital, but it is, for most observers, the battlegrounds of North and South Yorkshire and the North West where Morrisons is hoping to claw back some of the customers it is losing to Asda. No wonder, then, that Philips has previously stated that he doesn't expect to see a real turnaround in performance until 2015, when Morrisons will also have 200 M Local convenience stores.
"By 2015, we will be a very different business competing on an equal basis with our competitors for the first time in a decade," he explains. "There is an expression I heard when I used to live in Canada. There is a huge difference between being late and too late. Yes, we are late but not too late - we have used that time wisely to learn from others. We have taken a decade of experience from Ocado, FreshDirect and others and we have used this to create something that is genuinely different and a proposition that is worth the wait."
Morrisons still has plenty of issues it needs to address in its core estate - and quickly. To be the true multi-channel retailer Philips wants it to be, Morrisons needs all channels firing on all cylinders. On the plus side, it is confident it has come up with a distinctive online offer that reflects what it does best. It's also taking the plunge at a time when its rivals are still changing and tweaking their offers and no one has yet taken a decisive step in dominating the market, so there's still much to play for.
In short, if Morrisons gets online right, it won't matter how late it was to the party.
How is Iceland doing online?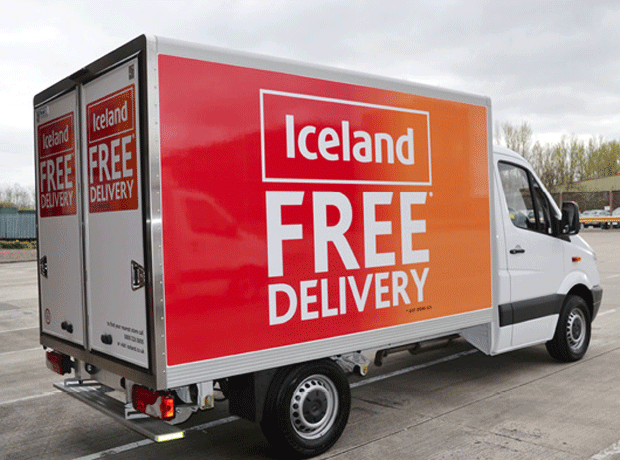 If Morrisons is nervous about taking the plunge online, it can take heart from Iceland, which relaunched online in May after an eight-year hiatus. And sales are booming.
Iceland was one of the first supermarkets in the UK to launch online in 1999. It later scrapped the service in 2005 as part of a drive to restore simplicity to a complex operation, but it kept home delivery going.
The fact it already had a popular (180,000 deliveries a week) and well-established delivery operation gave Iceland the confidence to return. Its Facebook page was swamped on a daily basis with customer pleas to do so.
Iceland hired Portaltech Reply to build a new e-commerce website, which was delivered inside seven months for £1.5m. Meanwhile, the retailer set about upgrading its 1,300-strong fleet of vans to Mercedes-Benz Sprinters and sent 1,600 drivers on training courses.
In May this year, Iceland was ready. It secretly soft-launched online in two stores close to head office, in Mold and Chester. A few hundred bonus card members were told they could now place orders online from the full range of in-store food at identical prices, up to 10pm, and get free delivery the next day.
The retailer chose not to use a dark store, instead using in-store staff to pick orders, although to minimise disruption to the shop floor orders would always be picked outside opening hours, with extra staff hired if required.
The minimum order was set at £25 and Iceland also became the first UK grocer to accept PayPal. The website went live at 9am on 24 April and the first order came in an hour later.
As well as taking orders, Iceland was also now able to analyse how its customers shopped in store compared with online, then use that data to prioritise its nationwide rollout of online shopping, which is well underway.
Iceland says it currently has over 300 of its 800 shops' offering online by the new year and plans to have 85% of the total estate covered by the end of April 2014, with the remaining 15% ruled out for range or logistical reasons. Click & collect wasn't available at launch, but Iceland may consider it next year.
"The relaunch has exceeded my expectations," Iceland founder and CEO Malcolm Walker told The Grocer last week. "It is cannibalisation, of course it is, although there are incremental sales too. But really, going online is something you have to do. Not least because everyone else is."