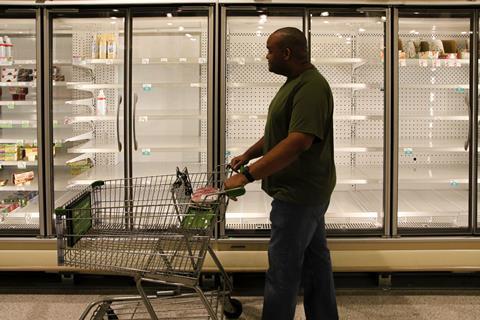 Input costs are soaring. Yet we still have so-called 'negative' inflation in the supermarkets, according to the latest Kantar data. So what's going on?
As well as annual negotiations in some categories (typically at the end of the year) a key explanation for continued resistance to price hikes lies in the return of promotions last year, following their cessation in the early pandemic. Across the big four they're higher year on year – though they've dipped 10% in the latest quarter, as have ranges, as supermarkets prioritise key supplies [Assosia/The Grocer].
Supermarkets are also masters of hiding inflation away from KVIs (on which Kantar's weighted inflation tracker leans). Indeed, savings on promotions continue to fall (from 29% pre-pandemic to 24% – the lowest since we started tracking them), while multibuys are increasingly favoured, to shore up falling volumes and because the savings are typically lower.
Nonetheless, inflation has also been curbed by supermarkets simply being unwilling to accept price increases from suppliers.
Determined not to blink first, they've held out over the summer, emboldened no doubt by knowledge that a lot of suppliers have enjoyed optimal trading conditions in the lockdown, though this week's OC&C Global 50 rankings and report shows that very few suppliers made out like bandits.
Amid growing evidence that suppliers are being increasingly successful in negotiating price increases, however, this week Morrisons CEO David Potts became the latest supermarket boss to acknowledge "industry-wide" food price inflation in the fourth quarter, while stressing Morrisons itself had already absorbed some inflation through "investment in margin" and would continue to "mitigate" wherever it could.
And perhaps the most intriguing mitigation may lie in the big four subsidising food price inflation through higher fuel prices.
As fuel prices rise, and volumes finally come back, how else to explain the reduction in the price differential between both unleaded petrol and diesel prices at the big four versus the forecourt average? In the past two months, RAC Fuel Watch data shows, it's fallen to under 3p for the first time in years (2.86p and 2.34p respectively). And crucially, fuel is a tool discounters don't have in their armouries. Normally we talk about fuel fuelling inflation. In this case it appears to be helping supermarkets absorb it.