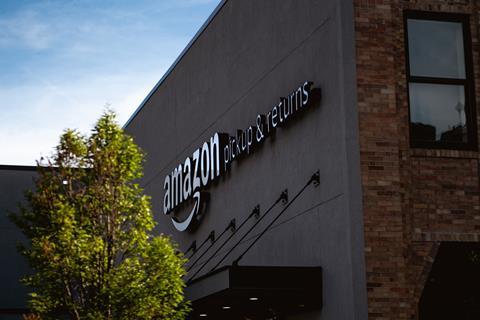 It was surely a coincidence Amazon CEO Jeff Bezos announced plans to donate $10bn to help tackle climate change the day after a particularly unflattering BBC Panorama documentary - but as interesting as the timing is the purpose.

Amazon is getting stick on a number of fronts but especially its environmental impact. I'm no data scientist but it doesn't even need the back of an envelope to realise that delivering millions of items (often in excessive packaging) isn't ever going to be green. And with urban last-mile delivery expected to grow by 78% by 2030, leading to 36% more delivery vehicles in the world's top 100 cities, and a 33% increase in emissions, according to World Economic Forum analysis, Amazon isn't likely to be helping the cause much in the future either.

What about electric trucks? They are only going to help so much. Indeed, in 2018, Amazon ordered 20,000 Mercedes Sprinter vans in the US for independent contractors who deliver exclusively for Amazon. And this secretive, success at all costs approach is also making it harder to recruit and retain staff. In January, Amazon reportedly threatened to fire employees who were sounding the alarm over its role in the climate crisis, following an open letter to Bezos and the board to which thousands of Amazon employees put their names last April.

To be fair, in September, Amazon finally published a report detailing its impact on the environment (roughly equal to the annual emissions of Norway) and pledged to be carbon neutral by 2040 - 10 years ahead of the Paris Agreement. But it's easy to be sceptical. Not least because Bezos is liquidating $1bn a year in Amazon stock to fund Blue Origin, a space exploration programme, and plans to "for a long time", he says.

Of course, it's great Bezos is spending big on this planet too. But as 7% of his net worth it's a drop in the (warming) ocean vs the donations of the five other richest Americans. And I wish Bezos would start making Amazon more climate friendly. Amazon doesn't even pay the packaging levy. I also wish he could pay more tax, more clearly, across the globe. Taxes run societies. Not vans, electric or otherwise.

In business today profit is inextricable from purpose. And nowhere is that truer than when it comes to food and drink. From single use plastic to surplus food to slavery-free supply chains, the UK's grocery industry sits at the heart of almost every major ethical and environmental issue that shoppers are passionate about. Doing nothing is no longer an option.
For Britain's dynamic mix of brands, retailers, wholesalers and suppliers that shift poses both major challenges – and major opportunities. All of which we'll explore at The Grocer's 2020 conference: How to have a purpose.
When: 11 March 2020
Where: The British Library, London
Featuring a prestigious line-up of senior industry figures, the day's packed agenda will include talks, panels, workshops and more. Find out more here.