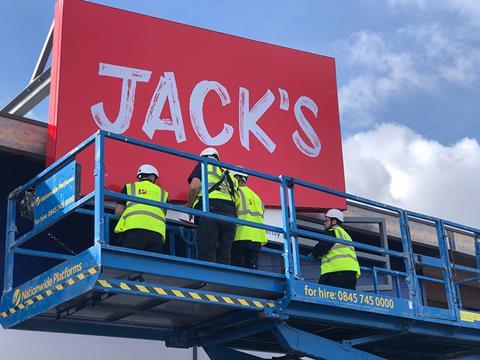 If you believed the hype, nothing less than the future of Tesco depended on this week's launch of Jack's. The new discounter format was to be Tesco's answer to the discounters. Yet the message from CEO Dave Lewis was muted and pitched oddly. Almost disingenuously.

"The timing is significant," he said, but not because Aldi and Lidl continue to grow at a dizzying pace. No, Jack's was "very much" about celebrating the 100th anniversary of Tesco next year. In fact, it was only one of "a number of ways" in which Tesco will celebrate the legacy of Sir Jack Cohen, as if the £25m venture, three years in the making, would be matched (or even bettered) by some other birthday whimsy (you can buy a lot of helium balloons and party poppers for £25m).

"We think this is what Jack would have wanted," Lewis insisted, as he talked the hordes of assembled media through the first store in Chatteris, a non-descript town with a population of 9,000 on the edge of the Fens. With a 12,000 sq ft format, it offers customers a "highly curated selection" that is "smaller, simpler and cheaper to run" but also "leverages the size and expertise of Tesco". That will enable Jack's to offer "the cheapest prices in town" Lewis claimed - though how that would work wasn't entirely clear (p5).

"It's about price and provenance," he added, with a promise that 80% of the 2,600 products on sale would be British.

Sound familiar? Of course. Yes, there are one or two differences. A self-scanning app, for example. And the number of products on offer is slightly greater. But from its shelf-ready packaging to its central island of bins selling GM items on a WIGIG basis, as one analyst said, "it couldn't be more like an Aldi or Lidl if it tried".
And isn't that the point? It's not "celebrating" its birthday. It's trying - very hard - to better utilise underperforming space, from mothballed stores, to lacklustre Metros. There are even plans to site Jack's stores next to larger Tescos. All to grow the size, reach, relevance and profitability of the Tesco business once again.

With limited plans (up to 15 stores will open in the next year or so), it's clear that a cautious Lewis is treating this as a trial. What does success look like? "It's not a calculation we're currently making. Normally what we would do with any store opening is to look again at three months, six months and nine months. We'll do exactly the same with Jack's, with the optionality" of adding more stores if it works.
Lewis is right to be cautious. Many supermarket chains have tried and failed to develop a successful discounter format (including Tesco, with Fresh & Easy). And for all the similarities to Aldi and Lidl, the proposition is not as sophisticated. Merchandising is stark (not a patch on Aldi's Project Fresh stores, for example); the offer puts much less emphasis on quality and premiumisation (one cannot imagine too many Audis and BMWs in the car parks); the cheap and cheerful Jack's brand struggles to convey some of the cues of the products themselves, with no copycat brands, let alone Farms brands. There is no sense of a brand at all, really, certainly not one that is capable of having its own CSR agenda, or one that could run an ad campaign such as 'Like Brands' or 'Lidl Surprises'. In fact, as one wag put it on Twitter, with its shouty British credentials, 'it looks like the brief was 'What if UKIP created a supermarket?'.

In short, there's nothing Jack the Lad about Jack's, the LAD. It's a pilot. But it's having a go. Someone has to.