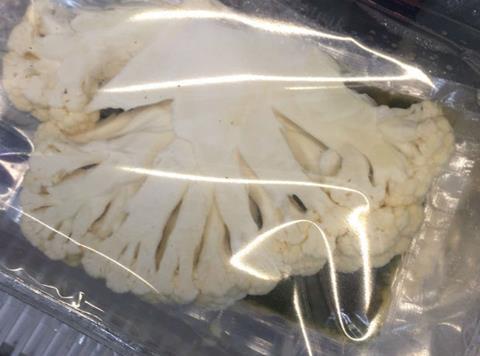 If Marks & Spencer's food division was hoping to start the year on the front foot, the events of the past week will not have helped. As well as disappointing Christmas trading, it was forced to pull its new 'cauliflower steak (pictured above), amid widespread ridicule over the sheer preposterousness of the concept, as well as environmental concerns over the old-style packaging waste involved.
M&S is right to respond to the increase in the number of vegan, vegetarian and flexitarian consumers, though it's been quite slow in its response compared with its agenda-setting work in the past in areas like protein and free-from. There is a real pent-up demand for new vegetarian meal solutions. Where is its ready meal equivalent of the chicken kiev, for example? It's certainly not the cauliflower steak. Yet, with better execution, cauliflower is a great idea as a meat alternative. What about a spicy cauliflower burger kit, for example, complete with a yummy sauce and brioche bun? That's adding value. You could charge a decent premium and no-one would complain, even without much protein.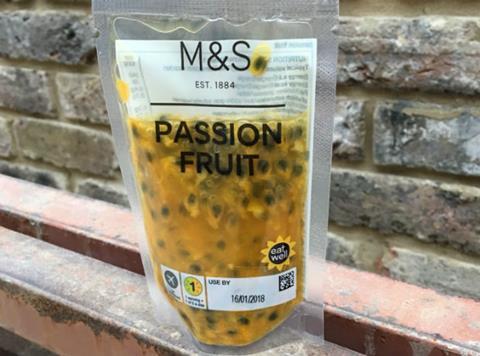 And compounding the issue is the environmental aspect. M&S has won awards for its Plan A campaign, but in recent months, the media has started to pick up on its profligate packaging. And if the cauliflower steak is an extreme example, there are plenty more. Have you seen the new passion fruit sachets, for example? Methinks nature did a better job.
You will always be a hostage to fortune if you launch a campaign called Plan A. You'd better deliver on it, or commentators will archly call for a Plan B. And it's particularly unfortunate because, as new chairman Archie Norman has identified, M&S needs a Plan B in terms of the business too. And not just on the GM side. The Simply Food store opening programme, on which its recovery was pegged, has been slowed as like-for-like sales have gone negative, amid greater price competition, encroachment into its convenience 'space', the growth of online home delivery, issues with distribution and availability – and last but not least, strong new NPD from big four rivals, such as Tesco's Wicked veggie range.