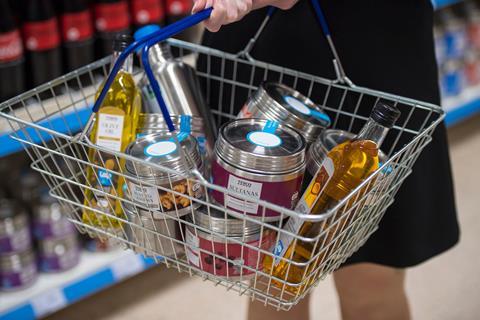 The number of green initiatives being discarded or watered down amid the cost of living crisis is growing. On the government side, plans for rewilding the countryside were scaled back, a windfall tax has been levied on energy firms; DRS proposals are under review and, with a new YouGov poll suggesting most Tory voters want to pause the net zero environmental policy, PM-in-waiting Liz Truss has vowed to stop green levies on energy bills.
Something similar is happening on the trade side too. Last month Iceland rowed back from a commitment to eliminate plastic from own label by 2023. And in the past week two reusable packaging trials – from Tesco and Aldi – have been canned.
It's a real shame. Despite Wrap's historic announcement, earlier this year, that plastic used on fresh fruit & veg will be added to the list of packaging retailers and suppliers will look to remove as part of the UK Plastics Pact, supermarket shelves (and online deliveries) are awash with plastic.
There were high hopes that commendable industry efforts (from Tesco and Aldi but also Morrisons, Waitrose, M&S, Asda, JS, Ocado etc, as well as new online DTC players) to develop substantive packaging-free solutions, despite the pandemic, would lead to demonstrable progress. But as the cost of living crisis has grown, the fear was always that rollouts would stall, progress come to a shuddering halt or, worse, plans would be discarded entirely. The news from Tesco and Aldi appears to confirm the worst.
Tesco says it will share with the industry more detailed findings so lessons can be learned. Let's hope so. For if there is to be a legacy (rather than this powerful idea being retired) answers are certainly needed as to the best way forward. And as things stand that looks like a choice between refill or prefill.
Proponents of prefill – the format of Tesco's trial – argue it can appeal to shoppers who want the convenience of simply grabbing something off the shelf, rather than filling a container. But can those same convenience-demanding shoppers be relied on to return the container? Some argue the answer lies in collections from households, so it would be interesting to know how many returns Tesco got in this way, via courier, vs drop-offs at collection points.
As for refill trials, allowing shoppers to fill their own containers, after a flurry of trial launches between 2019 and last year, rollouts have slowed this year, while Aldi has canned its only pilot. Again it's vowed to learn lessons. Time will reveal if all these trials lead us anywhere – other than up the garden path.