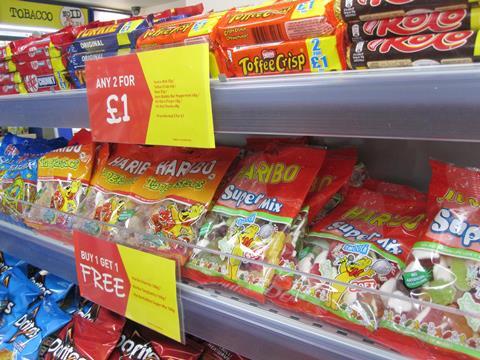 It's not just the health lobby that's apoplectic about the government's HFSS u-turn. An alliance of healthier brands (and investors) have also written to No 10, livid that the rug of opportunity has been pulled from under their products.
And supermarkets themselves must be quite cross. That's why Tesco is going ahead and banning HFSS multibuys anyway. Whether it's pressure from investor lobby groups, or having worked so hard to come up with a plan to still make money, why stop now? To reject the government's actions and prove it wants to do the right thing is also great PR.
It will also have reasoned that the impact of the u-turn on multibuys is actually negligible in the grand scheme of things: Sainsbury's hasn't used multibuys (or not in earnest) for years, and new research from IRI shows lost sales from multibuys account for just 5% of the damage the government's HFSS clampdown was set to inflict.
No. It's the loss of access to gondola ends and other promotions space that's exercising retailers and suppliers right now. Sure, multibuys are more important in some categories and some retailers than others. But as a quantum, 95% of lost sales and profit from trials is from missing out on impulse purchases. That's why so many brands have been willing to reformulate their products, or bring out new healthy variants. That's also why there's still an opportunity for non-HFSS brands (if they can afford them), and will make impulse purchases of healthier food more likely.
Yet you would think the government has abandoned its obesity strategy wholesale. It's simply not true. In-store layouts and other location-based online changes are set to go ahead in less than five months. (Unless of course there's another u-turn.)
So, the big story here is not the bogof ban getting scrapped. It's the cancellation of the pre-watershed ad ban. That's the real victory for industry lobbyists, and yet it has nothing to do with the cost of living crisis in which it's been cloaked.
What advertising definitely does do is drive sales. In a separate IRI study, it predicted a total loss for manufacturers and retailers of £192m from the HFSS ad ban. But with the positional restrictions still going ahead, it could have been so much worse/better. Depending on where you sit, of course.