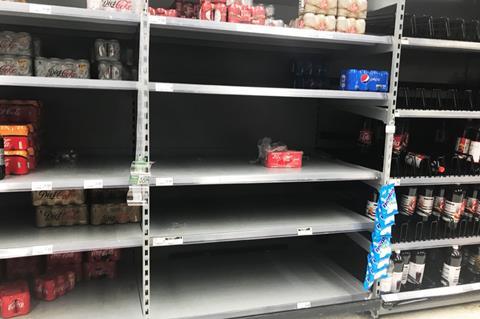 What a week. If this was a disaster movie, we'd be rolling our eyes at the increasingly unbelievable script. And yet, life continues to prove it is stranger than fiction.
After opening with scenes of the PM spending 'Freedom Day' in self-isolation, things soon descended into chaos as the food sector grappled with a new threat – the 'pingdemic'. By the end of the week, images of empty shelves were plastered over newspaper front pages and business secretary Kwasi Kwarteng was pleading with shoppers not to resume panic buying.
Having been told by Iceland MD Richard Walker that ministers should be the ones panicking (but insisting he wasn't), Kwarteng performed another u-turn and announced the government would publish a list of jobs exempt from some self-isolation rules.
Thankfully, some supermarket depot staff and food workers were on that list, although supermarket store staff were not - leaving question marks over how retailers will manage their high absence rates, which are only likely to worsen now masks are no longer mandatory.
The delay in dealing with the issue has also caused, as Walker predicted, a s*** show" for businesses. With over 600,000 Brits 'pinged' in the week to 14 July, Warburtons and DTC companies, have seen disruption to deliveries, while supermarket absence rates hit 30% in some areas . Thanfully, empty shelves were isolated incidents, but they could have been avoided altogether.
It's not as if the government wasn't warned about the havoc a pingdemic could wreak on food supplies. In May 2020 – when the NHS Test & Trace app was being trialled on the Isle of Wight – industry leaders called for safeguards to be put in place to prevent mass quarantining. Earlier this month, the BRC warned the gap between the end of social distancing and the easing of self-isolation rules would lead to crippling absence rates.
On the one hand it's easy to feel some sympathy for ministers who, as Kwarteng suggested this week, face criticism no matter what they do. With Britain increasingly divided on the pandemic, some will accuse the government of acting too fast to ease restrictions, while others will say it is acting too slowly.
But ministers must learn to take heed of what industry leaders are saying. Because so far, this disaster is playing out exactly how supermarket bosses said it would.