Lidl has changed its tone on its newer London stores, acknowledging they are an adaptation to target convenience. So how are they doing it?
Both the discounters have been making inroads into convenience for some time, but neither has come out and said it.
Until now. Announcing its 100th London store last week, Lidl proclaimed it was "taking on the established supermarket convenience offering".
It's a change of tone since April last year, when The Grocer revealed that Lidl's minimum London store size requirement had shrunk from 10,000 sq ft to 7,000 sq ft.
Then, the discounter said it was not a move into convenience; simply a flexible approach to property.
Lidl's announcement last week added it was "adapting its store formats", but how, exactly? And what does it tell us of the newly confirmed convenience strategy?
Most central store
The 100th London store to open was in Beckton, but the one we visited was Lidl's Tottenham Court Road store – its most central yet in the capital. Opened at the end of April, mid-lockdown, when closer inspection would have been problematic, its significance went largely unnoticed, but it is the best example of how the standard format has been adapted, according to Lidl.
It is no ordinary Lidl. The frontage is about 20 metres across, not dissimilar to a Sainsbury's Local. It looks as though Lidl has applied its "flexible" property approach in an almost literal sense, because the exit is separated from the rest of the frontage by the ground-floor entrance to a gym on an upper storey.
Where, in a standard Lidl, shoppers would go through a corner entrance into the expanse of the store, here they arrive in a funnel-shaped area, not much wider than a single aisle. The first fixture immediately to the right is the fresh bakery (no change there) but to the left, a ready-to-eat chiller cabinet, with pre-packed sandwiches and drinks, means the convenience mission is further forward in the store.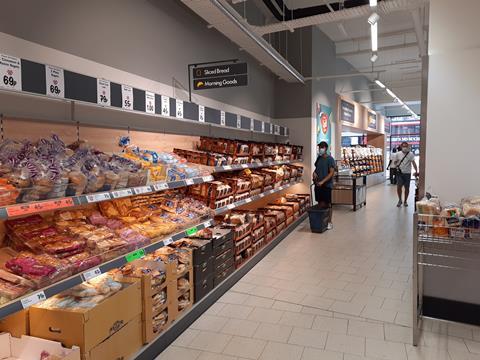 The checkout area is set back, after the bakery. And as well as its unusual positioning (to accommodate that gym entrance) it's a far cry from the usual rows of staffed conveyor-belt checkouts. There are none here. Instead there are about 25 self-checkouts – something still not found in a typical Lidl, where shoppers buying a few items have to wait their turn behind those with trolleys.
The five staffed checkouts are the space-saving kind found in an M&S Simply Food or a smaller Co-op, where customers queue for the first available.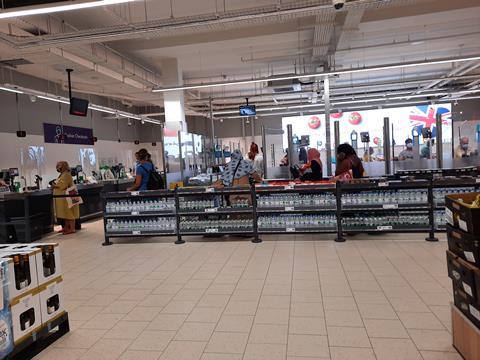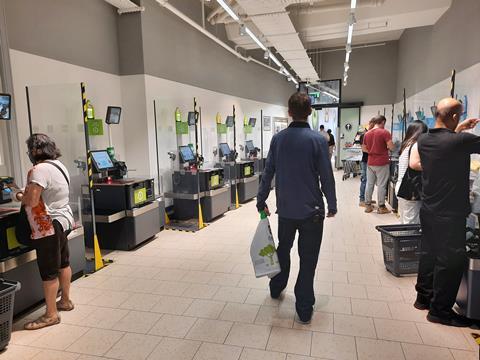 Only a couple of years ago, Lidl viewed the lack of sites with a car park as a hindrance to its London expansion, because average spend shrinks when customers have to carry shopping home.
It's not a logic that seems to trouble the discounter at this store, which is clearly designed to cater for the frequent, basket shopping mission. There are a small number of mid-sized trolleys available at the entrance, but none are in use.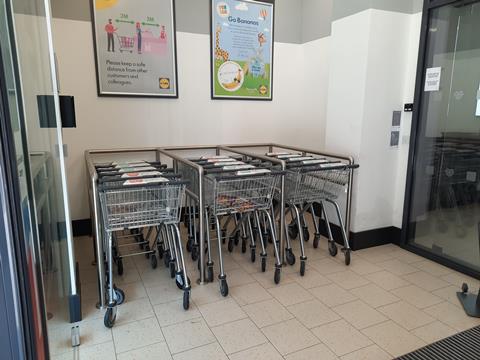 Store footprint
That's not to say this is a convenience store. At about 14,000 sq ft, it's smaller by 12,000 sq ft than the biggest Lidls, but small it is not.
As shoppers walk down that funnel-shaped entrance, with the checkouts to the right, the store also widens to the left, where there is fresh fruit & veg and chilled cabinets holding Chef Select ready meals, family pasta bakes and Deluxe pizzas.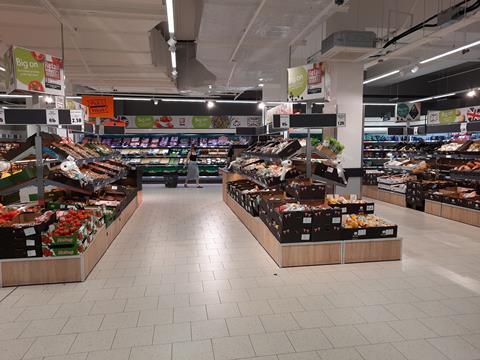 The store remains narrow, even here, but it's also deep. Lidl says it has the full, normal range, with aisle width the greatest compromise. There is even a 'Middle of Lidl' general merchandise fixture, but squeezed into a single aisle instead of two.
This is a different tack from the Aldi Locals, which sacrificed GM Specialbuys and cut SKUs from about 1,800 to 1,500 (though Lidl says in some of its smaller stores SKU numbers will also have reduced). Aldi Locals do away with some bulky SKUs, due to the absence of a car park, while at Lidl Tottenham Court Road, bulk packs are retained for those willing to haul them home.
Shopping journey
The real adaption here is not in Lidl's range but in its arrangement throughout the store. A standard Lidl is designed for shoppers to a take a journey through it. Take beers, wines & spirits, for example. In a typical Lidl, they are by the checkout farthest from the entrance. That's fine at the end of a snaking shopping trip through the aisles, but not where shoppers will want to go if a bottle of wine is all they're buying. But at Tottenham Court Road, walking straight down the first aisle, they will find themselves in BWS.
Newspapers and magazines are also sited differently – between the bakery and checkouts.
Admittedly, in both cases, this siting is partly dictated by the awkward shape of the store. Nevertheless, the layout here means it's possible to shop for those things and go, more quickly and conveniently to the checkout than in a standard Lidl.
And while in a typical store, fresh meat is in the first aisle and frozen food toward the end of the journey, at Tottenham Court Road these have swapped places. Frozen is just past BWS, again close to the checkouts, at the start of the journey, so shoppers don't need to go far for a frozen ready meal or pizza for tonight. Here, it's fresh meat that is nearer the end of a journey through the aisles, to pick up on a planned shop.
A convenience shopping mission here would be just as streamlined as one in a Tesco Express, one of which just happens to be directly across the road, or a Sainsbury's Local (there's one a few hundred yards further down).
The things most likely required – food for now or tonight (both frozen and chilled), fresh bakery, a soft drink or perhaps something stronger for later – are all located close to both the entrance and the checkouts.
Shoppers can pop in, grab them and go (until recently, there was even a store-front sign saying 'pop in'). They may leave with more change, too – Lidl has pledged all its London prices will be the same as elsewhere, and a comparison of a handful of SKUs found no discrepancy.
But shoppers can also take a journey through the aisles for a planned weekly shop if they want to, and the full offer is there, right down to school uniforms in the middle aisle.
This is how Lidl is adapting its supermarket format to take on convenience – by becoming both propositions at once.
The discounters' race for London
March 2019
Aldi launches its new 'Local' sub-brand in Balham, with fewer SKUs and no GM.
April 2019
The Grocer reveals Lidl's minimum London store size requirement has shrunk from 10,000 sq ft to 7,000 sq ft. Both discounters say they are not targeting convenience.
June 2019
Lidl announces a five-year, £500m London expansion plan. It will see 40 new stores added to the 88 already inside the M25, plus a new head office built in Tolworth.
September 2019
In its full-year results, Aldi says the London estate will more than double by the end of 2025, from 45 to 100. UK & Ireland CEO Giles Hurley says the number could reach 250.
July 2020
In a change of tone, Lidl says it is "taking on the established supermarket convenience offering" as it opens its 100th London store.