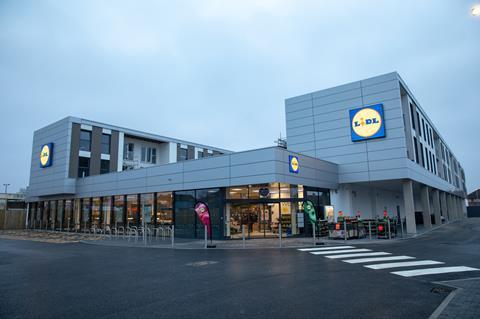 Lidl is claiming a first among UK food retailers with the publication of a human rights impact assessment and action plan.
The discounter committed to carrying out the impact assessment in 2019 after coming bottom in Oxfam's annual supermarket human rights ranking. The impact assessment has been published to coincide with World Human Rights Day on 10 December.
In partnership with independent experts Ergon Associates, Lidl "looked in depth at how even the smallest decision had the potential to directly or indirectly impact internationally recognised human rights within its Kenyan tea supply chain", the supermarket said.
The action plan arising from the exercise includes new measures to support women and smallholder farmers. Both are areas in which Lidl fell short in Oxfam's 2019 assessment of supermarkets on their published human rights safeguards. By the charity's latest annual ranking in 2020, Lidl had climbed two places up the table to fourth.
Lidl said its plan was a "fundamental step towards greater supply chain transparency" – another criteria on which Oxfam ranks the six major supermarkets included in its table.
"We are proud, on World Human Rights Day, to be the first UK retailer to publish a human rights impact assessment, particularly given it is related to our Kenyan tea, a key commodity for our business and loved by our customers," said Martina Petrovic, Lidl GB head of corporate social responsibility.
"It has been a great insight for us to learn more about our suppliers and growers in Kenya and understand where the decisions we make can have an impact on local communities and workers we rely on within our supply chain.
"This report represents a fundamental step towards greater supply chain transparency, and further demonstrates our firm commitment to providing affordable, high-quality produce that is good for the planet, good for producers and good for people."
Lidl's plan sets out "four key areas of focus" as follows:
• Increasing the impact of certification schemes – a commitment to working with key stakeholders, including Fairtrade and the Rainforest Alliance, to help increase the positive impacts of certification schemes, as well as tackling any potential challenges.
• Engaging directly with Kenyan stakeholders – working with the supply chain to keep understanding its impacts better and to directly mitigate the risks that have been identified.
• Adapting purchasing practices – strengthen buying practices by introducing new methods of assessment, such as an ethical supplier scorecard, that will go beyond current requirements for suppliers.
• Supporting systemic change in the tea sector – continue to develop supply chain transparency and support collaborative approaches to tackling systemic issues, such as working towards living wages.
Lidl has also committed to conducting three further human rights impact assessments by 2025. They are to include reports on its Spanish berries and South American bananas in the next 12 months.