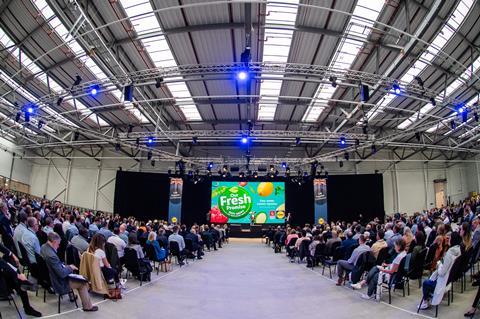 Lidl GB has held its first national supplier conference, with over 600 attendees at its newest regional distribution centre, which opened last month in Luton.
Suppliers at the event last Wednesday (27 September) were addressed by Lidl GB CEO Ryan McDonnell along with the discounter's supply chain director, logistics director and customer director.
They were given a business update and told of their integral role in Lidl's growth plans, according to the retailer, and got the opportunity to network with key contacts including buyers face to face.
They were also given a 'virtual tour' of the RDC, Lidl's biggest in the world, at 1.2 million sq ft.
"Last year, we saw a record number of shoppers coming through our doors, attracting an additional 1.4 million customers," said Lidl chief trading officer Martin Kottbauer.
"As households have continued to tighten their belts, we're incredibly grateful to our business partners for the support they have provided to ensure customers have continued access to high-quality products at the lowest possible prices.
"Our business is only ever as good as our suppliers, and their products are paramount to achieving this. We have led the way with our commitments to longer-term contracts and, as we look to the future and continue on our growth trajectory, we're committed to bolstering our partnerships further; providing suppliers with the security and certainty needed, as they continue on the journey with us.
"Our inaugural supplier event is a pivotal part of this, and we look forward to learning and growing together in the years to come."
Wyke Farms MD Richard Clothier, who attended the event, said: "We have been proud partners of Lidl GB since their inaugural store opening in 1994, and next year marks a significant milestone of 30 years together. Over this journey, our collaboration has grown substantially, with the amount of cheese we supply on an annual basis increasing by a staggering 14,000%, spanning 20 countries, including the US.
"What sets Lidl GB apart for us is their family-like approach, marked by honesty and simplicity, aligning perfectly with our values. The supplier event has been enlightening, allowing us to engage further with key people within the business, witness the journey our products undertake, and gain insights into the future of our collaboration within Lidl's wider vision."
Last month, in a package of financial incentives to help boost British egg production, Lidl said it would pay £40m more to its existing egg producers than it did last year, with a premium on top of market rates, supported by long-term contracts.