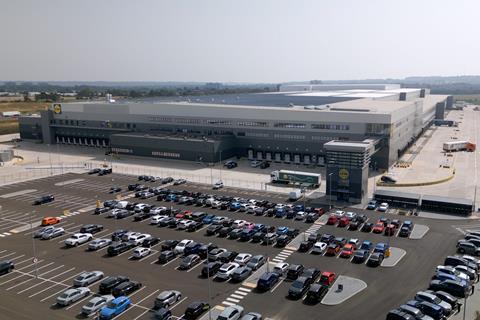 Lidl GB fell to a £76m loss last year as it invested over £100m in low prices and opened nearly 50 new stores, helping grow market share from 6.1% to 7.1%.
Despite revenues climbing 18.8% to £9.3bn, the discounter made a loss before tax of £75.9m in the 52 weeks to 28 February 2023, down from a £41.1m profit the year before.
Earnings before interest and tax fell to £28.5m, from £79m in the prior period.
Lidl also invested almost £50m in increasing entry-level pay for store workers.
Lidl GB CEO Ryan McDonnell said the year had been marked by "the macroeconomic headwinds which affected the whole industry and the economy".
"Largely energy costs, broader cost inflation, food cost inflation and then interest rates as well," he told The Grocer.
Lidl said the results showed the scale of the investments it made during its last financial year, as it "held firm on its promise of providing its customers with the highest quality products at the lowest prices".
The investment saw it attract an additional 1.4 million shoppers.
McDonnell said: "We've always had a clear commitment to offer the best value to our customers and that is a promise we will always keep, even in uncertain economic times. Alongside preserving this price promise, rewarding our people and maintaining long-term relationships with our suppliers will always be a priority.
"As a privately-owned business we have the ability to make decisions that we know will have immediate benefits for our people, customers and suppliers and long-term benefits for our business.
"The entire retail market has seen inflation, and we are no exception. However, for us, what is important is that our price gap to the traditional supermarkets is as strong as it has ever been. We've invested in keeping our prices low for customers in what has been a very challenging year for most and, with many more customers flooding through our doors each day, our ambition is to ensure that every single household has access to high-quality, affordable food at their local Lidl store."
He added: "As a company, we're entering an exciting new phase of growth where we are bolstering our infrastructure to sustain us for the long term and hiring thousands of new colleagues too.
"Next year will mark 30 years of Lidl in Great Britain, and there is no ceiling on our ambitions for the next 30 as we see the potential for hundreds of new stores across Great Britain. In many ways our brand has never been more relevant. We are, and will continue to be, a discount retailer maintaining a relentless focus on providing our customers with great quality at unbeatable prices."
Lidl scaled down its usual annual pipeline of 50 new stores to 25 for the 2023 calendar year, as it invested in warehouse capacity instead.
Last week, it opened a £300m, 1.2 million sq ft warehouse in Luton, its biggest distribution centre yet, and the first to feature automation.
McDonnell said that alongside long-term new store ambitions, "you need logistics to be able to match that".
"They need to run parallel.
"To have a sustainable logistics infrastructure is really important – to be able to supply stores in a sustainable way. And obviously that efficiency will help drive costs down and keep prices low."